The origins of 24 Hours of Daytona—America's greatest road-racing endurance challenge—date back to primitive land speed records set on the hard-packed shore of Daytona Beach, two thirds of the way up the Florida peninsula's eastern coast. Back in 1935, British pioneer Malcolm Campbell MBE logged an unfathomable two-way flying mile average speed of 276.82 miles per hour behind the wheel of his 2,300-horsepower "Blue Bird" shod in tires made of silk to combat the destructive sand. By 1966, a massive banked track only four miles off the beach hosted a 24-hour endurance challenge that, in terms of raw speed and duration, inaugurated a new era of motorsport in North America.
This year, the Rolex 24 at Daytona (its official sponsored moniker) introduced a new technological era for global endurance racing with the LMDh class, which combines Le Mans and Daytona prototype regulations in a new hybrid chassis with entries from Acura, Cadillac, Porsche, and BMW. The rest of the field—61 cars in total—ran the gamut from LMP2 and LMP3s to the production-based Ferraris, Lamborghinis, Chevrolets, Mercedes-AMGs, and Aston Martins duking out a full afternoon, night, and morning of racing in the GT classes.
Just walking into the Daytona International Speedway is an experience unto itself, though as a guest of Rolex, I began the first day by dipping under the track in a brand new blacked-out Cadillac Escalade before taking a slow cruise through the infield packed with motorhomes, tents, and grill pits ahead of the race's 1:40 p.m. start time.
My introduction to the circuit itself came courtesy of a hot lap in the passenger seat of a Lamborghini Huracan STO driven by Michelle Gatting, one of two so-called "Iron Dames" racing in GTD-class Lambos at Daytona, who were recruited on race day to put the fear of god into journalists and lucky VIPs. The words of former F1 driver Romain Grosjean, now himself a Lamborghini factory endurance racer whom I spoke with before the race, flitted through my mind as Gatting pushed the STO to maybe 7/10ths, slamming through the tight turns and screaming along massive banked walls of this historic high-speed superspeedway.
"Daytona is a little bit like Indianapolis," Grosjean told me. "Even if there's no activity, there's something special about the place, which is amazing. That's the first thing that shocked me when I got here. I've been lucky in my career to have done Le Mans and Spa, so adding Daytona—it's quite a special race."
Rolex also set me up for a few museum visits to help establish Daytona's historical significance, rather than leaving me to wander around enraptured solely by the mythos of a legendary name. Bill France, who would eventually found Nascar as America's most popular motorsport body, transformed racing on the beach into a paying spectator sport before making an unbelievable-at-the-time commitment to high-speed racing by building the track at Daytona. France, and later the France family, then went on to build Talladega and promote Nascar to the moon and back, but the big ovals that make up the majority of the Nascar calendar still lack much of the allure of Daytona's road configuration, which arguably pushes drivers to the limits of attention and cars to the limit of grip far more than the drafting and positioning required by turning left for a short few hours.
Michael Teo Van Runkle
Welcome to the World Center of Racing
In the STO, Gatting pushes hard out of turn six and we rotate counterclockwise longitudinally, climbing up the first banked sweeper until we reach a full 31 degrees off level, steadily picking up speed and forcing me need to reorient my field of vision to even comprehend what's happening—g-forces pressing us into our seats before we barrel roll down into the flats once more and hammer the brakes hard into turn 10, known as the "Le Mans Chicane." Now, imagine making that mental adjustment three times per lap for a couple hundred laps over two full trips around the clock.
One more unbelievably long, hair-raising sprint up the opposite bank later and the hot lap comes to an end. In just those few minutes, however, paying spectators started populating the massive multi-colored grandstands, filtering into the pits and loitering as close as possible to the cars, drivers, and teams. Daytona's announcers repeatedly boasted this year's record-setting attendance of over 50,000 and I begin to see why: The prospect of climbing up that steep embankment, signing the start-finish line, peeking into racecar cockpits, and miming the positions of drivers slipped in tight, pretending to fiddle with steering wheel controls—everything brings out the imaginations of children and adults alike.
As the crowd swelled, five-time Daytona winner Hurley Haywood joined us for a quick tour of the pits and shared many of the ways that racecars, racers, and racing in general have evolved since his years on the track.
"When I was racing, we didn't have any of this stuff," Haywood laughed. "Things were pretty simple. The driver had to do everything. We now have sequential shifting, power steering, ABS brakes, and traction control that's very sophisticated. So, as the car goes into the corner, the traction control is alerted and retards the engine so the guys can get back on full power after threshold braking."
The next generation of professional drivers already spends far more time using simulations to train for all the computer inputs, buttons, sensors, and systems that racing now requires. But nothing can prepare the body for the physical effort of a 24-hour endurance test like Daytona.
"I love the feeling of going through the day and the night and back to the day," Grosjean told me when I asked about the differences between F1 and his current task at hand. "You want to be rested before the race, for sure, but you want to be able to rest when you finish your stint, too, which is not always easy when you're full of adrenaline."
Michael Teo Van Runkle
Navigating a Field of 61 Racecars
My own adrenaline starts to pump when the racecars start firing up, drivers strapping into HANS devices and slipping on helmets. Then only more so during a warmup lap, hybrids whizzing, V8s roaring, and V10s barking as flashing lights transition into streaks, pop-and-bang downshifts into corners, the deafening cacophony of a race up close and personal. And I'll be in it for the next 24 hours.
"From a driver's standpoint, the load is enormous," Haywood says. "Let's say when a driver gets into the car, they're at 100 percent. Then as they start to drive, they have the physical forces of the driving and the mental stress. They want to draw down both of those equally. They don't want to get one out of balance with the other, because that's when mistakes are made."
After a few hours, most of which I spend trying to learn how I can quickly discern between LMDh, LMP, and GT cars at a glance, the sun starts to set and temperatures drop. In balmy Florida, the thought of nighttime temps in the low-40s seems silly—in fact, this year's race is one of the warmest in recent memory and the forecast called for no rain either.
Bundled up in a thick jacket, I mingle with fans clambering around fences as the dark of night sets in. Racecars blur even further, despite the well-lit track, and the annual 10 p.m. fireworks display dazzles our eyes against the brilliant lights of Daytona's full-sized, neon-lit ferris wheel. The party starts to die down as midnight approaches and hours of day drinking take a toll on most of the infield population. I head back to the hotel for a nap thinking about the racers, engineers, and pit crews facing another eight hours or so of nighttime competition.
Michael Teo Van Runkle
Enduring a Long Nighttime Stint
Back at the track, not quite in time for sunrise, I catch up on the action. After a jolty start with plenty of appearances by the Acura Integra Type S safety car, most of the night went surprisingly smoothly. But as soon as we arrive, a yellow flag flies and the grid tightens up once more—Acura holding the two top spots in LMDh and Mercedes-AMG ahead of Corvette Racing No. 3 car in GTD. When the green flag flies after a few slow laps, the engine echoes off grandstands resume and the race intensity ratchets up another notch.
Imagine racing for 15 hours, then watching any time gaps gained immediately evaporate during a safety car. Pure frustration, but a regular occurrence in long races like Daytona as cars suffer flat tires, damaged suspension components, and occasionally flirt with walls and tire barricades. The worst seems to always happen at sundown and once the day's heat starts to warm up Daytona's 3.56 miles of asphalt—changing temperatures affect grip, throwing off drivers who are deep into long sessions and acclimated to the environmental conditions. Turn one catches my eye the most, as tires lock up and smoke under load, drivers hoping to make up a position or two after the long, semi-banked start-finish stretch.
To make things more exciting, the No. 3 Corvette lost two laps overnight after suffering mild damage, then climbed back up through the field to take the lead in GT, only to lose a position to the Mercedes-AMG during repetitive safety cars. For the drivers, just being able to push harder and overtake requires significant effort and a bit of risk, since official Balance of Performance standards dictate the power outputs of each class and minimize differences or advantages that one car might have over another.
The four LMDh models from Acura, Cadillac, Porsche, and BMW, for example, can reach speeds up to 202 miles per hour with up to 680 horsepower on tap. LMP2 and LMP3 drop those figures to 186 mph and 180 mph, respectively, while the "roadgoing" cars in the GTD and GTD Pro classes get 540 hosepower and a top speed of 175 mph (the difference being professional drivers or not).
I asked Haywood specifically about the Porsche 963 making its debut at Daytona, given his longtime association with the brand.
"The motor they use in that is a 918 motor and I own a 918, which is a super-duper Porsche," he says. "Then, Bosch makes the electrical system, so the electrical system is the same for everybody. Nobody has an advantage on the electrical proportion of it. If you press the button, you have basically 40 seconds on the battery before it runs completely down. And then it regens itself up in about a lap and a half here at Daytona."
Regen on the battery is from braking and from the flywheel, Haywood adds.
"Lots of different components help recharge the battery, so it's very efficient," he says. "But you know, this is gonna be the first race for that system and god knows there's plenty of windows of disaster that could happen."
But even with Balance of Performance restrictions and similar components, differences clearly exist—as Acura proves by walking away from the field within only a few laps of each safety car. Chalk the performance up to Daytona vets Tom Blomqvist, Helio Castroneves, and Simon Pagenaud, but the No. 60 in particular looks untouchable (at least to my eye). One of the two Porsches, meanwhile, retires at almost exactly 11 a.m. on Sunday, reportedly due to engine failure after almost 22 hours on the track.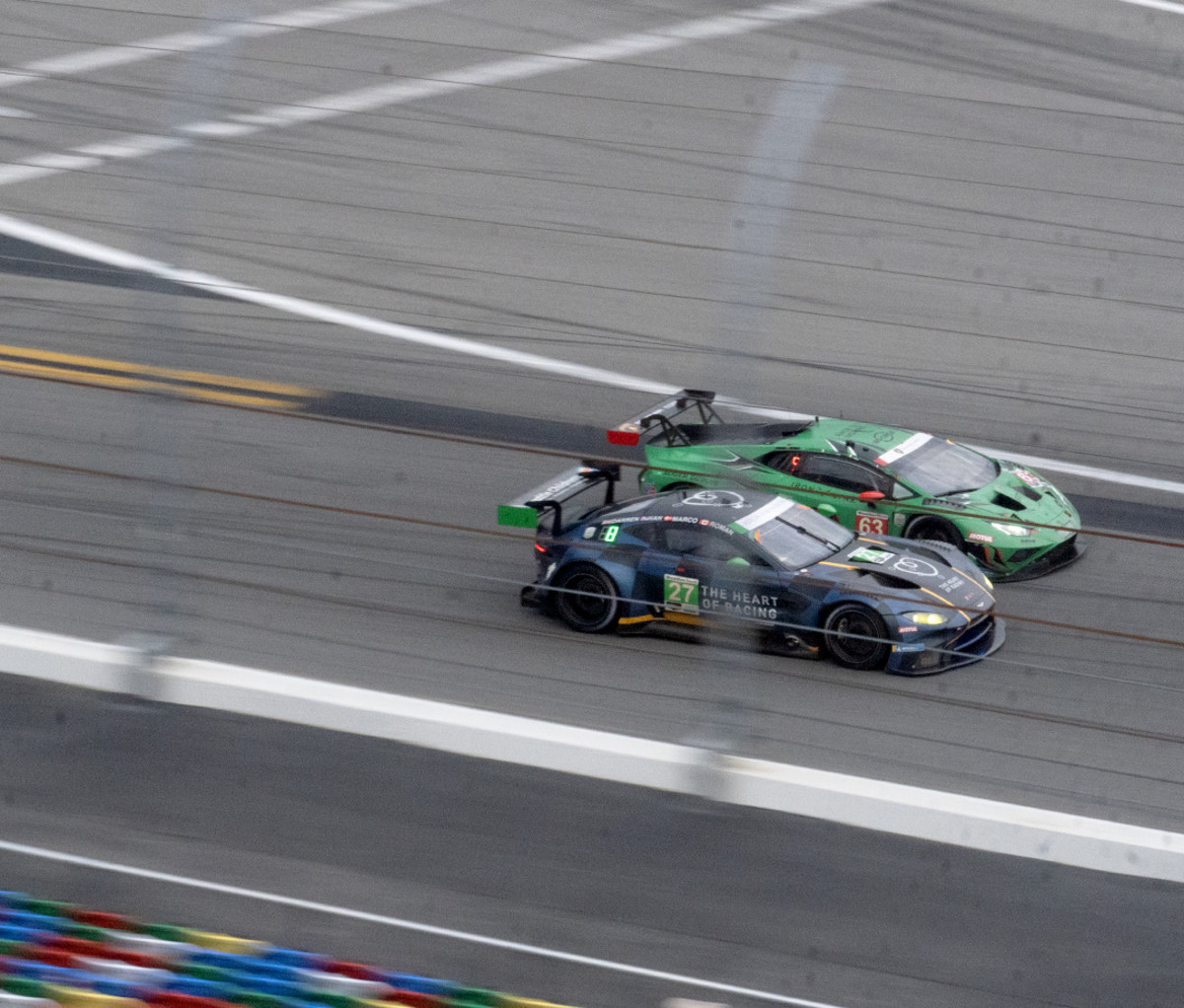 Close Calls in Every Class
The fun factor of race-prepped roadgoing models from Chevrolet, Mercedes-AMG, Lamborghini, BMW, Lexus, and Aston Martin also lend a bit of drama to each lap, as the faster prototypes sneak through a crowded racecourse taking advantage of more power, higher downforce, and lower weight on the straights and through the curves.
"With the GT cars, it's not quite as sophisticated as the prototypes but it's still very, very tech-savvy," Haywood explains. "The next generation of drivers are people and kids that are used to working on video games. 'Cause that's what these cars are now, video games."
Keeping track of the various classes, watching out for race leaders, and remembering the time remaining throughout 24 full hours of racing takes a toll on spectators, too, especially Daytona newcomers like myself. By the time 1:40 p.m. on Sunday rolls around, I'm pretty sure an Acura is in first with a Cadillac in close second in the LMDh class. And I can spot the No. 3 Corvette trying—struggling—to catch up to the Mercedes-AMG.
But I have entirely lost the race for LMP2 and LMP3, which turns out to be a shame when a last-lap overtake leads to an one-thousandth-of-a-second difference between first and second position in LMP2. And somehow another Acura snuck in that I never noticed, so the Cadillac actually takes third. The differences remind me of the Baja 1000 and Dakar Rally, the demands of long-distance racing somehow coming down to such infinitesimal fractions after thousands, if not millions, of microdecisions throughout the course of the race.
"Sports car racing's a unique thing, where you have a thing called balance of performance," Corvette Racing driver Jordan Taylor tells me after taking second in the No. 3 GT car. "For us, I feel like we maximized the most we could with the car that we had. I think we were punching above our weight a little bit, battling with those guys with where we started the weekend."
We weren't really in the race last year, so to come back this year and at least be in the hunt is a win," he explains. "To lead as many laps as we did and have adversity in the night, lose two laps, come back from two laps, and then be leading with a couple hours to go, it's kind of a true racing race."
Rolex as Reward after 24 Hours of Racing
The drama and setting explain why Daytona drew out a record-breaking crowd this year. How many of those fans lasted all 24 hours of day and night remains a mystery—I sure didn't. But as a reward for at least watching 18 hours or so, I get an up-close-and-personal look at the faces and feelings of each winning team in Victory Lane, not to mention a peek at the wildest part about the Rolex 24 Hours at Daytona: After so much preparation, so much financial investment, and then a full day of effort during the actual race, the winners receive no prize money. Instead, first place driver teams receive "only" an engraved Rolex Oyster Perpetual Cosmograph Daytona wristwatch.
But this is no regular Rolex, as revealed by the deference each Rolex rep displays handling the goods. No schlub off the street can waltz into some shop and buy one—only the winners at Daytona, ever. Haywood wore one of his five watches to the track, of course, and showed off the timepiece enough to impress even this dedicated non-watch guy still busy being enthralled in his Porsche history. And legend tells that Jeff Gordon once wore a temporary Rolex tattoo on his left wrist in 2017 as motivation to win the race—which he then proceeded to do.
Champagne spraying and flashbulbs flaring, the Rolex 24 at Daytona wraps up. In person, those two spins around the dial fly by unbelievably fast. Will I remember each moment of late-night heroics or the renewed intensity of every single safety car restart? Probably not. Yet somehow, limiting the prizes to Rolexes for the winners and a place in history for the rest of the field contributes to the mythology of this legendary setting, where modern technology only amplifies that old urge to race as fast as possible along the shimmering sands of a flat Florida beach.