The Nissan GT-R is back for 2024, and it'll go on sale this summer. That's a pretty shocking development, since after we test-drove one way back in 2019 the writing was very much on the wall that the latest GT-R would be the end of the line. Like all its rivals (Ferrari, Mercedes, Porsche), Nissan would move to electrify its iconic sports car. That might still happen, but if you always wanted a GT-R that runs on gas, there's still time!
If that's not you and you're wondering about all the hype, we'll tap the brakes on what's new for the 2024 Nissan GT-R, because you may first need a refresher on why the famed R35 GT-R matters for American sports car nuts.
History of the Nissan GT-R
Nissan GT-R could be a car you've never seen in the flesh, since so few have been made, and until Nissan changed its mind about exporting them to the U.S., they just weren't available here. Now, older Skyline GT-Rs meet the over 25-year rule for importing cars to the States, which is why prior-generation R32 (early through mid 1990s) and R34 (1999-2002) cars are occasionally visible where you'd expect to spy them: Miami, NYC, L.A., etc.
Where does the "Godzilla" nickname come from, you ask? It was well-earned in racing a long-dead series that Nissan dominated. Nothing beat GT-R, and that label has stuck with it to this day.
But you probably know the current car, R35, through the Fast and Furious franchise, and from video games like Forza.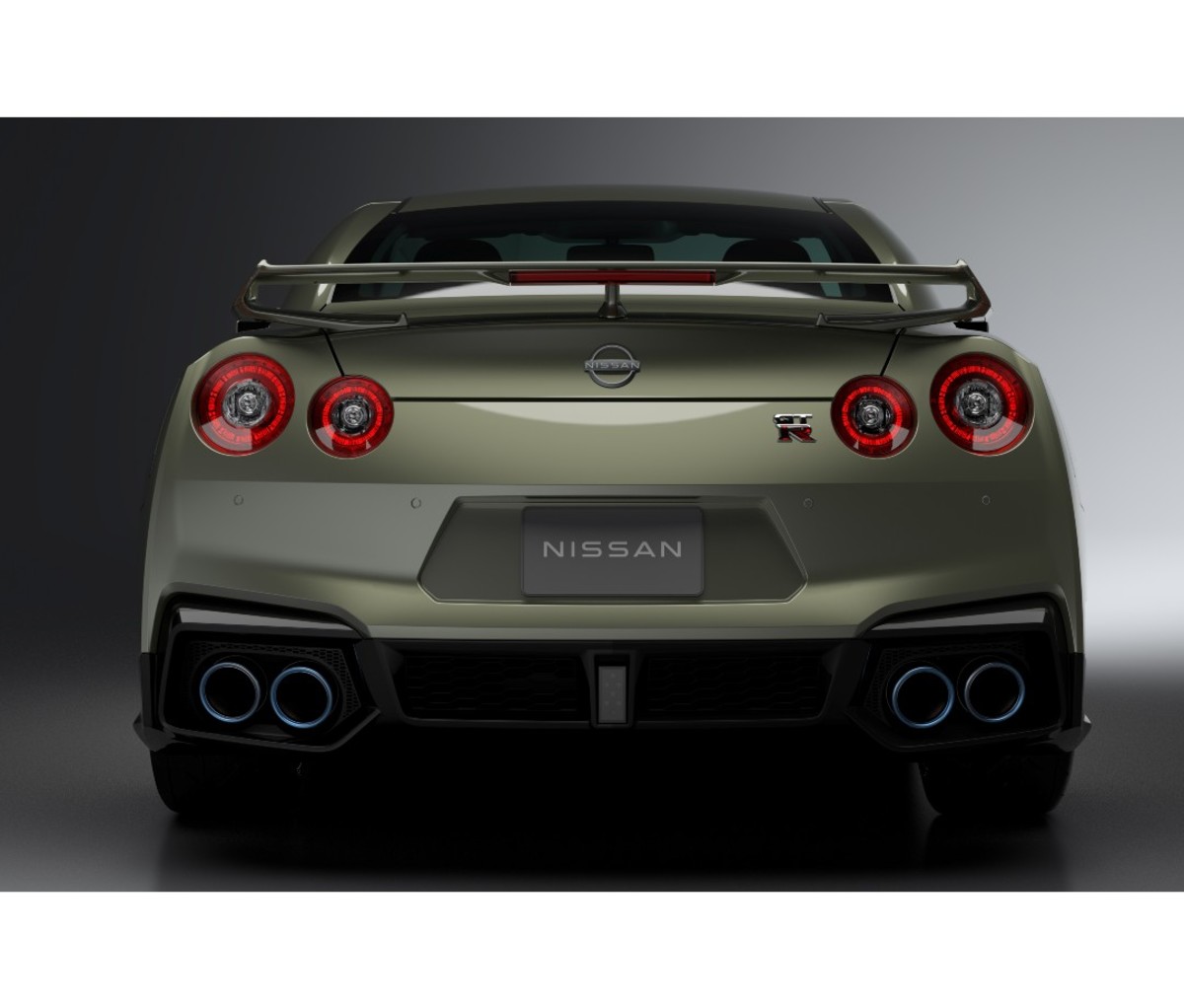 GT-R "Musts"
If Nissan ever electrifies the GT-R, all of the following may go out the window since—just as all Corvettes had front engines and rear-wheel drive, until the arrival of the C8—all bets are off when a carmaker pours the prior recipe down the drain.
But until that happens, as is tradition, R35 gets a 3.8-liter twin-turbocharged V-6 and AWD, and blasts the pavement with 565hp. That's good enough to smack beyond 60mph in 3.0 seconds and 100mph in about 7.0 seconds. Those are just numbers, however. A few other cars have since surpassed that capability, but what we found during our own test-track drive was that the GT-R produced ferocious grip. You had to actually try to make the car drift in a corner, and with such high thresholds, owners know they can drive faster with less risk.
You feel heroic because GT-Rs are so dang stable, you truly have to drive them like an insane person to impose risk. Critics called them boring, but if you get one on the track you know that's not true; they're just fast as hell and as predictable as the sunrise.
2024 Mechanical Upgrades and Updates
Even if it's known as a supercar "bargain," the outgoing 2023 base GT-R sold for $113,540. Nissan's yet to reveal the 2024 price, but don't bet it's going to get cheaper. Still, a Porsche 911 Turbo goes for $185,000, hence the idea that the GT-R comes in relatively affordable.
And, no, Nissan didn't make this latest GT-R more powerful, but they significantly increased the size of the rear wing, to reduce lift at speed, then reshaped the front grille, bumper, and front and rear fascias all to increase cooling and downforce, but not at the cost of increased drag. Such changes do matter, and fans of your GT-R will be able to spot that it's not the prior-gen R35.
Nissan will also continue to make the more potent 600hp GT-R NISMO, and that car's rear wing was also distinctly reshaped, as were its supports, front lip, and rear diffuser.
Courtesy Image
2024 Colors and Interior
Because the GT-R cognoscenti are, well, fanatical, Nissan's honoring them with two throwback paint jobs. Both Millennium Jade and Midnight Purple (yes, purple) harken to the rarest hues you could get with the R34. All we'll say about that: Get the green. Those colors come on the Nissan GT-R T-spec, which doesn't bake in the hotter 600hp V-6, but does include carbon-ceramic brakes, gold RAYS 20-inch forged wheels, an ungraded Vehicle Dynamic Control system, and wider front fenders. T-Spec cars come with a unique, dark green leather interior with suede-and-leather seating surfaces.
T-Spec also seems worth wanting because it adds Nappa leather to the dash and door trim; unique, logoed kick plates; and special badging.
You don't buy this car to rock out to the sound system, but if Nissan didn't alter the formula too much, it's actually a pretty civilized car for driving around town, and the fact it includes a Bose 11-speaker audio system that incorporates active noise canceling (filtering out tire and engine buzz) will be welcome on longer hauls.
And, yes, you can do that. The rear seats are tiny, but useful for storage, and the GT-R still has a reasonably sized trunk. The world's most practical supercar? Yeah, maybe. Now in green and purple, too.