Every day leading up to the 2022 Baja 1000 start on Friday, the chorus of echoes bouncing off the hills of Ensenada grows and grows as unrestricted engines roar down public streets before one of the world's most grueling motorsports events. This year, I embedded with driver AJ Jones and his South Racing team for a full week as the 2022 Dakar Rally winners prepped for the race, then tagged along for over 30 hours of sleepless chase trucks, refueling stops, and DIY mechanical repairs.
Arriving at the hotel driveway where South Racing made home base, I immediately found myself immersed in a melange of English muttered with Portuguese, interspersed with the clink of tools, ratcheting sockets, electric drills, and the occasional blast of the world's loudest horn. Properly prepping a pair of Can-Am Maverick X3 UTVs requires more than a week, so Jones, his father Jesse, Brazilian co-driver Gustavo Gugelman, and Portuguese mechanic Dany Duarte arrived 10 full days before the start of the race to pre-run the half-course that Jones and Gugelman would soon drive at full pace.
South Racing tapped fellow Can-Am factory driver Rodrigo Ampudio to handle the rest of the 2022 Baja 1000 828.25-mile course, a loop that starts and ends in Ensenada after weaving through some of Baja's most brutal terrain—in contrast to the better known sprint from Ensenada to La Paz. The plan, at least on paper, put Ampudio behind the wheel first, starting the race in Ensenada then handing the reins over to Jones and Gugelman just off Highway 5 at mile 200, before taking over once again at mile 475 for another stint. Jones and Gugelman would then finish off the race's 150 miles the next morning.
All told, significantly more than half of South Racing's two stints behind the wheel would, if all went according to that plan, occur at night. But darkness only exacerbates the rate of attrition at Baja, so much of the week's prep involved late-night pre-running tests of lighting setups, digital GPS screens, and solutions for any conceivable mechanical problems. The second Can-Am, meanwhile, received everything necessary in the case of any off-roading expeditions required to rescue the first.
As the team at South Racing's hotel swelled to include fellow Portuguese mechanic Felipe Alves, Irish race engineer Joe Naughton, and South Racing principal Scott Abraham, the entire team focused on preparing not just the two cars, but also their own circadian rhythms for the taxing task at hand. Breakfasts pushed back to lunchtime, taco dinners typically started at 9 p.m. or later. Nobody that I saw touched a single drop of alcohol. There were no stereotypical Hunter S. Thompson binges here, to my great surprise.
"You have to have really good guys, really smart people, really capable human beings," AJ Jones tells me. "I know what my job is. My job is to help out as much as I can, give feedback, drive to the best of my abilities. Basically whatever they tell me, if they want me to go and drive the thing in reverse for a hundred miles and shake the wheel as hard as I can, then that's what my job is for the day."
Throughout the week, I meshed with a team in full business mode. Merely hoping for a victory that would make Jones the first person ever to win the Dakar Rally and Baja 1000, two of the world's most formidable off-road endurance races, in the very same year requires serious cojones. Prepping to do so requires serious commitment of time, manpower, and capital. Actually doing so, as it turned out, would require a serious amount of luck too.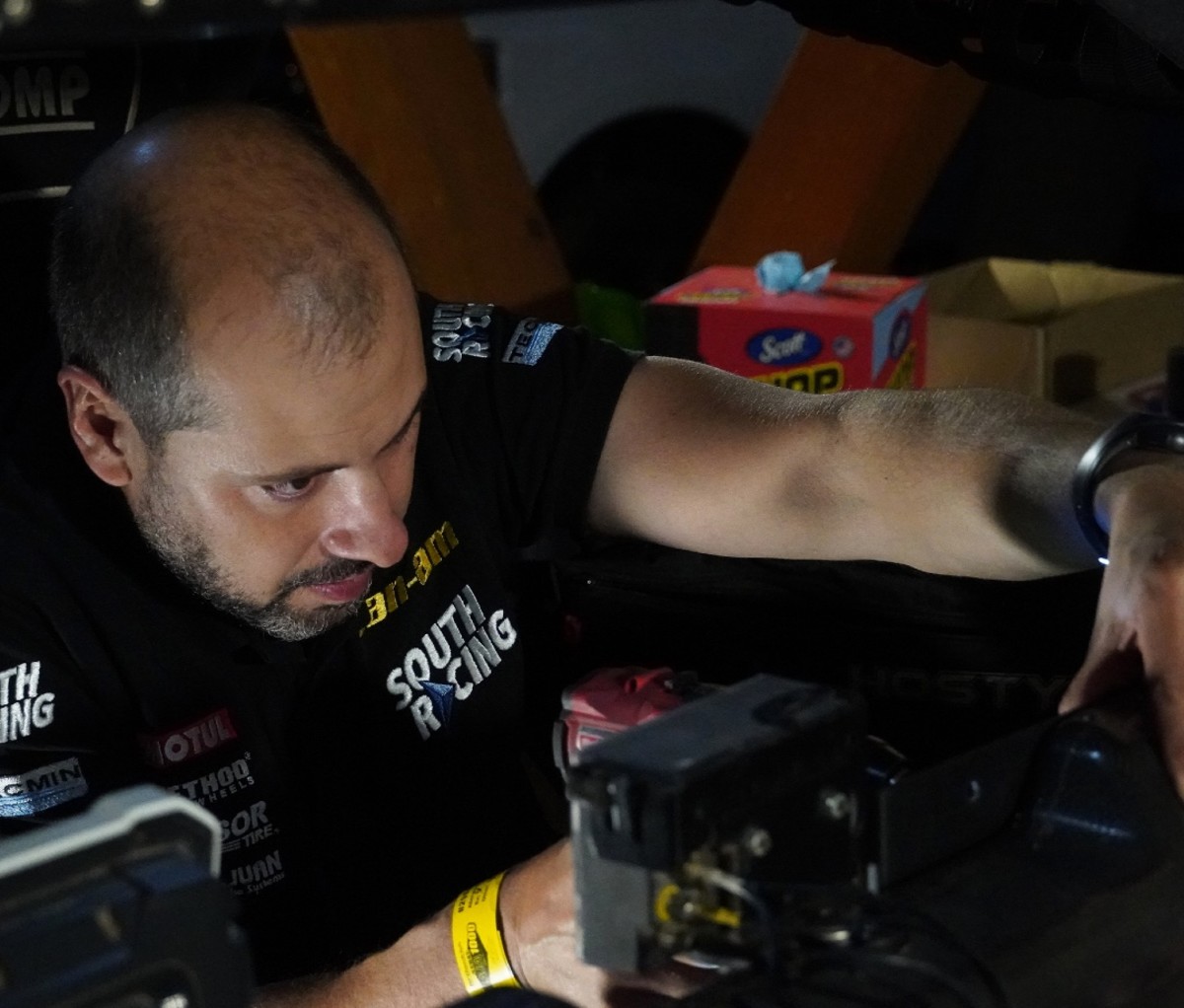 The Importance of Tire Balls
Throughout the week, at all hours of the day, we regularly schlepped up the hill to the Ampudio family's shop. Carved out of a residential home in an upscale Ensenada neighborhood, the shop housed a few Can-Am Mavericks in various stages of disassembly, plus homebuilt pre-runners and a few trophy trucks—the biggest and baddest class at Baja that typically employ 1,000-plus-horsepower engines, cartoonish suspension setups, and massive 40-inch tires.
Jones and Ampudio stand about the same height, but each preferred the Can-Am's seat set at slightly different angles. No problem. Meet in the middle. Ampudio also wanted a GPS display mounted centrally on the dash, in addition to the co-driver's. Again, not a problem, as Gugelman quickly drilled a few holes and installed the smaller digital screen. But the Ampudios also insisted, based on local knowledge of this year's course, that racing in Baja required the use of tire balls.
The Joneses disagreed. Tire balls are essentially silicon balloons inflated with enough air to keep a tire firm enough to keep running after a puncture. That potential pro is balanced against the cons of an increased rotational mass resulting in decreased acceleration, a lower top-end speed, and reduced maneuverability in tighter sections. With 30 spare tires on hand—count 'em, that's a full 30 spares hauled down from the USA—the two camps eventually agreed to prep Ampudio's tires with tire balls and then swap out all of the Can-Am's tires and spare at each driver change. The decision sounded like a lot of wasted time to me, as I loitered around each home base, but what did I know?
Ampudio knew the terrain and he also knew the town of Ensenada, one night taking us to a gas station taco stand where I ate, without a doubt, four of the greatest carne asada tacos of my life. So maybe we should trust him on the whole tire ball thing, I thought, dousing another taco in salsa and cramming it down. But I also pondered the effects of additional unsprung mass on a UTV's driving dynamics at full-gas. Maybe not…
Post-tacos, rather than retiring for a nap at 10:30 p.m., Jones and Gugelman zipped into race suits with down jackets layered on top against the low-40-degree weather, strapped into HANS devices and helmets, and took the Can-Am out for a nighttime test run of the new, absurdly bright light bar. I rode behind with Naughton and Alves in a Ford F-150 Raptor just in case, but the team mostly wanted to get the CVT belt up to temp and make sure a new alternator installed to boost output for the lights didn't cause any additional heat soak. Jones and Gugelman came back happy with the light bar, stoked that the CVT belt stayed within spec, and concerned that Ampudio's secondary screen might blind them over long hours in near darkness. Luckily, a couple of tinting films easily fixed the issue.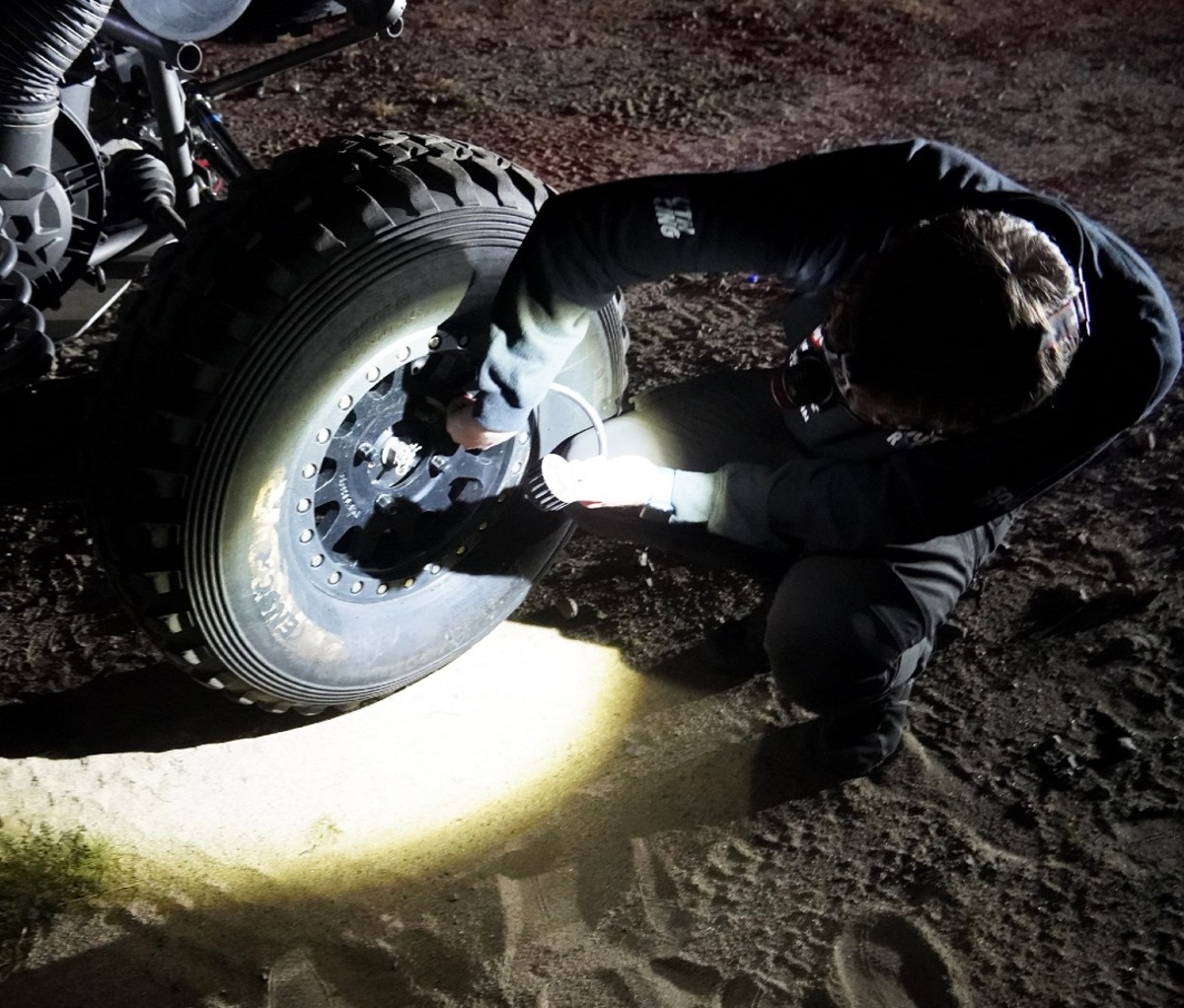 Into Town For A Not-Quite-Laissez-Faire Tech Inpection
Midday on Wednesday, we brought the Can-Am into downtown Ensenada for tech inspection, also known as contingency. I picked up media credentials for race day and jealously ogled a vendor serving margaritas off a cart as the team grabbed wrist bands, a few comms devices, and waited in line for a quick once-over.
Compared to a bone-stock Can-Am Maverick X3, the South Racing race car looks a bit stripped down on the interior, with buckets and harnesses, a plain dash with simply labeled switchgear, and air hoses for helmets and intake. Mechanically, the cart uses much of the same suspension components, a larger fuel cell, and Tensor tires. The upgraded alternator did require removing the parking gear, so the driver needs to either keep a foot on the brake or shut down ignition when stopped—a peculiar tradeoff but as Naughton repeatedly explained to remedy my ignorance, Baja presents a different challenge than most races.
"With the sports I worked in previously," he said in a gentle Irish brogue, "performance is extremely important. You're trying to find hundreds of seconds. Tenths of seconds over a lap time, over a kilometer, or a stage, which is a couple of kilometers. But working in this category of side-by-sides, this general sport, first you have to finish. So you're really working on the reliability of the cars first. And then when you have the reliability, you try and make more performance while keeping the reliability."
Naughton points to a bunch of spots where he might add little Gurney flaps all over the body to improve top-end aerodynamics and the turbocharged Can-Am's fuel consumption rates, estimated as low as two or three miles per gallon. But with little time to design, much less fabricate, any such contrivances, he let the dream fade. And at contingency, after a check of the roll cage, safety harnesses, fire extinguisher, and GPS tracking device, the Can-Am only needed better number stickers more clearly visible on the front. Not bad—but these are the pros, remember.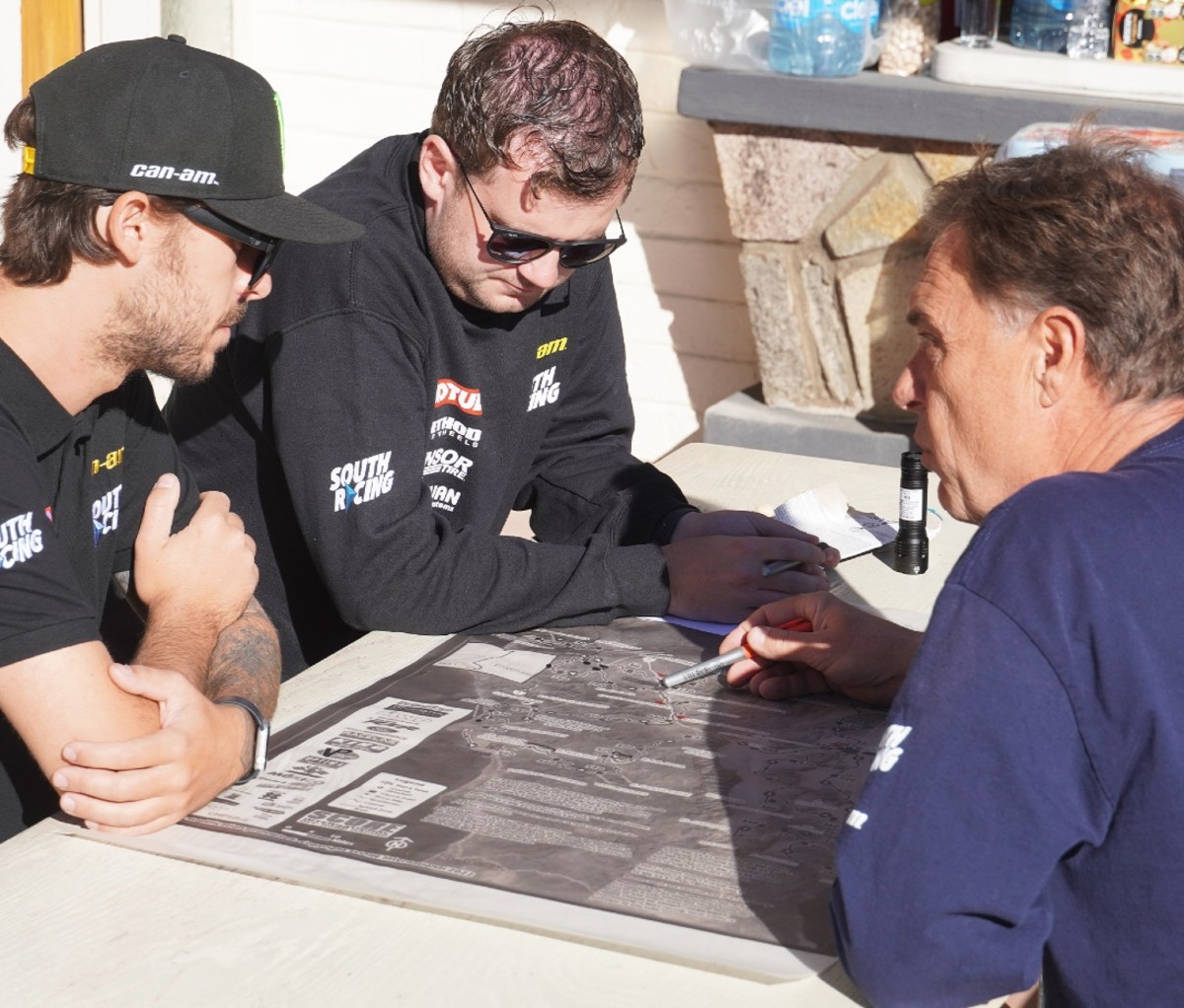 Not So Much Conquering, More Like Surviving, Baja
The two Joneses cut their teeth racing trophy trucks at Baja, and AJ actually won the Baja 1000 outright in a trophy truck before make the switch to racing side-by-sides. If that seems a step down the ladder, guess again. Trophy trucks are the bastion of wealthy enthusiasts and their toys, but factory support and sponsorship from the likes of Can-Am and South Racing make AJ's dreams of a racing career possible.
That dream would take a big step up, the Joneses and everyone on hand knew, with a decisive win at Baja to match the Dakar Rally earlier in the year. And just like every other racing driver on the planet, AJ Jones believes in his own skill.
"We had a really good year in 2021," he said, "where I won in Spain, which is those WRC style roads, and won in Kazakhstan, which is like the desert. And then I won Abu Dhabi, which is the dunes. Those are the three major terrains of off-road racing and I won a race at all three of 'em against really good guys last year."
I asked whether he preferred the more technical terrain of Baja versus the open dunes, or even rally stages in Europe. Baja, it turns out, isn't so much of the high-speed roostertails that make up Can-Am and Polaris advertisements.
"It's not just full blast, 120 miles per hour down whoops looking badass like how all the videos are," Jones explained. "The videos are sick, but I mean, where you can't get the cameras up in there, there's a reason you can't get the cameras up in there. 'Cuz it's gnarly, with how often the cars break because of the terrain and what you're putting the car through, you have to figure out where the fine line is. You still want to push and go fast, but if you grenade the car, then you know you're done."
Gugelman helps to balance the need for speed with the need for man and machine to actually survive the race. And when the inevitable does happen, he also has to hop out into the dirt and swap out flats or suspension components, as needed.
"I would say I'm 50 percent of his vision," Gugelman told me. "Telling what's going to happen and then he can understand and see if he goes faster or not. So basically, the co-driver, besides the notes and everything, I'm responsible for it all. I mean, I know a lot of mechanical issues, so I do all the mechanics if any problems or anything happens."
"I'm also like the psychologist," he laughed. "Sometimes the driver gets too excited because he sees some dust, he's catching another guy. So maybe it's like two miles away and yeah, they get really excited. You gotta say, 'Calm down, easy pace for overtaking.' Sometimes it's hard. It's for all the drivers, not just AJ. We gotta be like a psychologist and say, 'Hey, calm down. Breathe.'"
Michael Teo Van Runkle
Race Day Approaches
Behind the wheel of a side-by-side, the urge to push harder and faster than possible can easily outpace sanity, for amateurs just as much as pros like AJ Jones (just ask me how I know). But as the week wore on and race day approached, an undeniable sense of urgency took over the South Racing camp. Sentences shrunk, voices lowered, what had been friendly jokes took on a more biting tone, then stopped altogether. Time to get to work.
On a final asphalt shakedown run of the Can-Am, Jones rounded a corner ahead of the Raptor and leaned over up onto only three wheels. At a stoplight—much like the Joneses' home state of Arizona, the law in Ensenada doesn't mind UTVs on the street—he launched hard enough to chirp the rear tires. But hey, with race fuel in the tank, everyone succumbs to that old urge. Plus, he needed to know ahead of the start just how fast engine mapping revised for race fuel might make the Can-Am.
Ensenada's population visibly was swelling—all Ford Raptors and Ram TRXs and custom-built pre-runners and homemade sand rails in addition to the full-race trophy trucks blasting around without any semblance of mufflers or catalytic converters. Locals were swarming to the city hoping to make a buck off the racers, and not always honestly, as taco shops filled up, gas stations served Jerry cans as often as vehicles, and traffic steadily worsened. Ampudio stopped by the South Racing house to check out his seat position, lobby for more tire balls, and go over the race plan, now taped to the wall for all to see, and memorize fueling stops, driver changes, parts depots, and potential snags in the rotation.
Duarte checked each and every socket in two full tool kits. Naughton revised his fuel-consumption spreadsheet. Gugelman clicks around the functions of his co-driver GPS screen, a sailboat chart plotter in a previous life. Jesse Jones and Abraham loaded tires, sketched then revised chase truck routes, and packed coolers of food and beverages. AJ Jones and I wandered around the buzzing garage, loitering, shooting the shit, checking our phones—the old Steve McQueen quote about waiting came to mind at least a thousand times.
Finally, The Real Deal
By Friday morning, the anticipation bubbled over into genuine frustration more than once. I woke up at 6 a.m. and loaded a backpack full of snacks and warm gear, checked my camera and phone batteries over and over, and made sure to eat a big breakfast. The team mustered up around 9ish, everyone quiet and wary. We loaded the spare Can-Am onto a trailer, the race car already with Ampudio at the start line, then packed two Raptors plus a Power Stroke F-350 full of gear and headed out of town.
Or, more accurately, headed into traffic. In the melee leading up to Baja, Ensenada's roads can handle the assemblage of team trucks supporting just shy of 300 race car entries just fine, but on race day, everyone needs to go the same direction and bottlenecks pile up immediately.
In fact, for many teams, the race was already well underway. Motorcycles start first around 3 a.m., hoping to get enough of a lead on the trophy trucks to finish before getting passed in plumes of dust at triple-digit speeds—potentially in the dark of night. After the unlimited trophy trucks, spec trophy trucks, and custom jobs, the UTVs left the starting line at 30-second intervals starting around noonish. By then, we waited three Fords deep in a row behind a line of similarly packed and prepped chase teams, anxious to get through a military checkpoint and past the crossover route where the race course ran over asphalt for a few hundred yards.
I'm riding with Abraham and Alves, hoping to witness as much of the action as possible as they cover the most ground of any of our chase trucks. Jesse Jones makes the first fuel stop to give Ampudio a "splash" of 10 gallons at race mile 75, which should get him through to the driver change, but we hustle along to mile 160 with another dump can and spare parts just in case. Now on the gulf coast side of Baja, having turned about 50 miles north after hitting the water, we hunker down to wait on the side of the rutted path amid a cluster of vehicles.
The trophy trucks make sounds unlike anything I'd ever heard before, somewhere between a deep V8 rumble and the whooping of an electric Porsche as suspension travel keeps the tube-frame chassis and enormous knobby tires all but floating over the dirt, sand, and rock. I kept an eye out for UTVs among the steady flow of racers flying by, some stopping for fuel or to swap on a fresh tire, but most hauling by as fast as possible. Soon we receive word that passenger cars at the highway crossover have caused a logjam, with only another Can-Am driven by Austin Weiland having snuck through ahead of the pack. Hurry up and wait. Finally, Ampudio and his co-driver Alberto Ruiz tear through at full blast, thumbs up, no fuel needed, third on the road a fifth of the way into the race after starting way back in 25th place. Things are looking good.
We wait for a few more minutes, logging time splits as the rest of the pack filters through, then climb back into the Raptor and hustle down to meet up with the Joneses, Gugelman, and Duarte at mile 225 for the first driver change. A quick stop at the military checkpoint where a balaclava'd and M16'd soldier waves us through. Then we mash it to the turnout—only to find another, in polite terms, complete cluster. Where can we help?
After counting the power line poles from pavement and following the path of helicopters pacing trophy trucks, we arrive just in time to catch Ampudio and Ruiz rolling into the stop. AJ Jones and Gugelman, already dressed in fire retardant race suits and insulated with additional windbreaker layers against the oncoming night, climb into the Can-Am. Duarte and Alves swap on four fresh tires and a new spare—no tire balls—torquing lug nuts and any bolts they can find down to spec double-time, just in case. Jesse Jones dumps in another can of fuel and they're off at 5:25 p.m.
The whole pit stop took maybe four minutes. That's an eternity to my eyes, or anyone who watches Formula 1. Then again, when taking first means first finishing, getting the cars and drivers perfectly prepped comes at the tradeoff of a ticking clock. And rarely does Baja come down to tenths or hundredths of seconds, more like full minutes, tens of minutes, hours even. I felt fresh, awake, hydrated, and, most surprisingly, not even too hungry given that we'd been on the road for seven-plus hours already.
Joining The Race
But now we're in the race, too, worried about hitting traffic as the sun sets on San Felipe down the Gulf of California coast. If we get stuck on the road, Jones in the Can-Am can veritably fly over smoother, sandy stretches and potentially beat us to mile 275, where he'll definitely need another splash given the long and treacherous loop coming up. Fog descends with the darkness and traffic on Highway 5 slows to a crawl. Not great, but it's not fog—actually, we're in a dust cloud kicked up by all the racers blasting by only a few hundred yards to our right. Then they're right at our side, blinding us entirely.
A few miles of held breath later and the race course veers back inland. So Alves hits the gas and we sprint down to our designated stop with a few minutes to spare. Jones and Gugelman arriving having given up a position, now fourth on the road after judging that the Can-Am and tires can only handle so much pace over the hard whoops near San Felipe. Never to worry, Abraham tells me in his cheerful South African accent, we'll make it up in the canyons and lakebeds. As the headlights and illuminated truck beds pierce the enveloping darkness, I chug a Coca-Cola (glass bottle, this being Mexico) and chow down on a few bites of a Kind bar before we turn northward once more to prep for another fuel dump.
This time, the parade of chase trucks turns off the tarmac, up into the dirt to meet the race course. We reach the designated meet-up at race mile 360 and wait, Abraham refreshing the 2022 Baja 1000 app via Starlink repeatedly, worried that Jones and Gugelman looked stopped at mile 310. We can't connect on the radio and the satellite walkie-talkie also seems useless. Maybe it's a tracking issue. Maybe not.
Other UTVs fly by at race pace, some stopping for tires and fuel. Jones and Gugelman should be here by now, so we face a quandary: Retrace to check on their status or wait in the hopes that they show up. If we go back and they pass mile 360 without taking on at least 10 more gallons of fuel, they won't have enough range until the next driver swap and the race could be over. But if they're broken down and can't fix the Can-Am with the parts and tools on hand, the race could be over.
Jesse Jones, meanwhile, has taken the spare Can-Am out around the backside of the nearest ridge, so he can occasionally reach Abraham on the satellite walkie-talkie. He has some spare parts but no fuel. Alves and Abraham decide we need to backtrack, but we also cannot drive against the flow on the race course. As we head back to paved roads, Jesse Jones sends up a last-ditch prayer, radioing a weatherman plane that might be able to reach AJ and Gustavo wherever they are.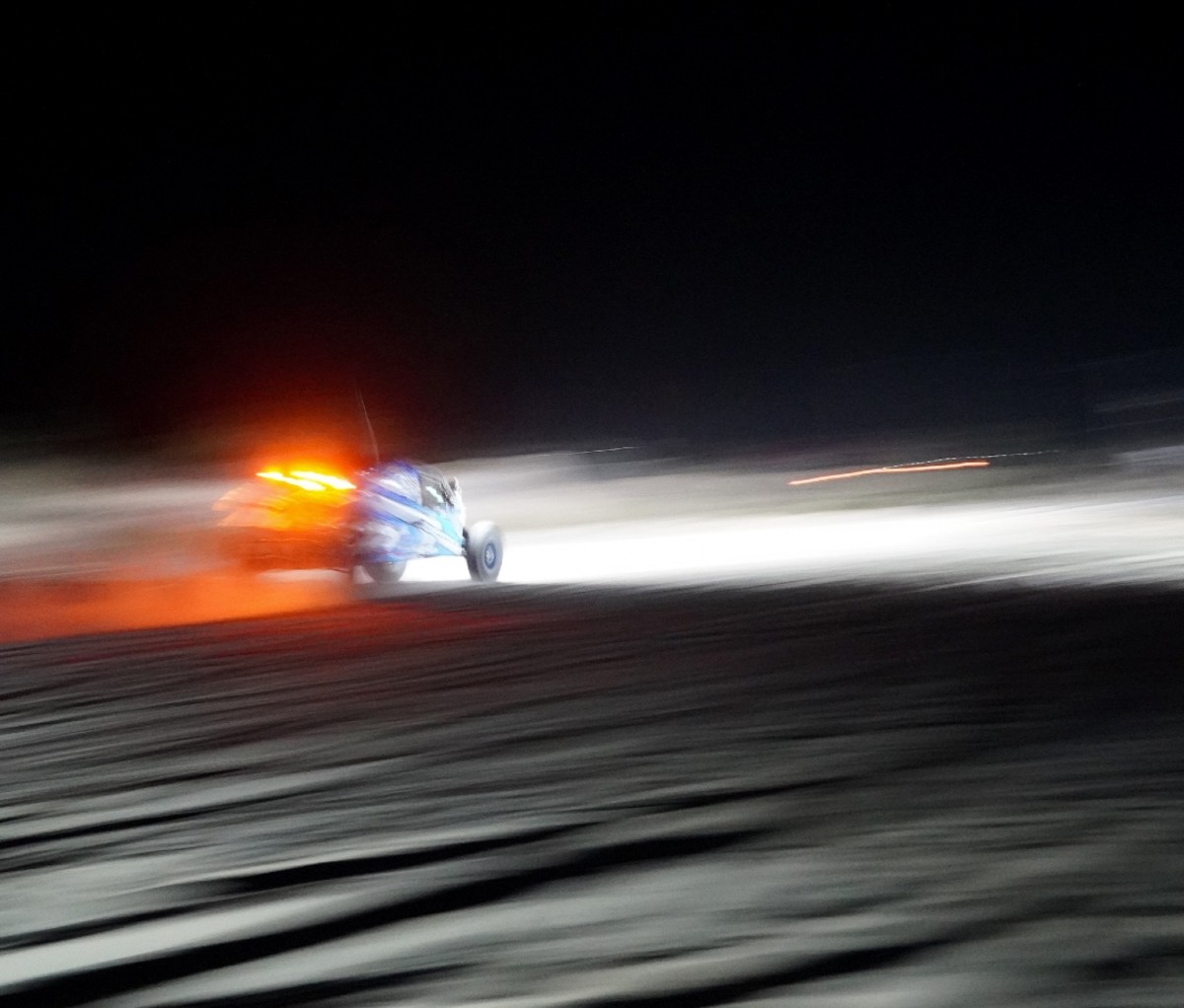 Prayers Do Get Answered, But Never Exactly How You Want Them
Sometimes at Baja, your prayers get answered. Just not with the best of news: Jones and Gugelman are stopped, broken down with a suspension and brake problem, or so we hear in a game of telephone. Back moving in 10 minutes or so, we think. Alves flips us around and head back to mile 360, where we can hunker down for a long wait next to a mixed line of locals and chase teams huddled around smoldering fire pits, Tecates flowing, and raucous voices rippling across the sand. Attitudes towards the race on the peninsula vary from welcoming to taking advantage of the cash influx or, often, outright disgust at the unnecessary noise and environmental destruction.
By the time Jones and Gugelman pull up, it's past 9 o'clock and the stars shine brightly in the pitch-black sky if I look away from the mass of humanity for long enough. The temperature steadily drops down into the 40s, wind picking up and tearing at faces. I put on a beanie and another layer beneath my jacket, but my eyes start to blur in the contrasting light of parked trucks and racers passing in a blaze of fiery streaks. Finally, one stops.
The Can-Am takes on a 10-gallon dump can, a new tire, and a group of locals even help toss on a new spare. Abraham spies a totally bent radius arm below the rear left axle but thinks it'll hold til the driver change in another 115 miles. Every voice bears the strain of knowing the long breakdown probably put a win out of reach. Time splits go right out the window. But the reassuring thought that the same might happen to plenty of other teams keeps our internal flames burning. Time to peel out and regroup.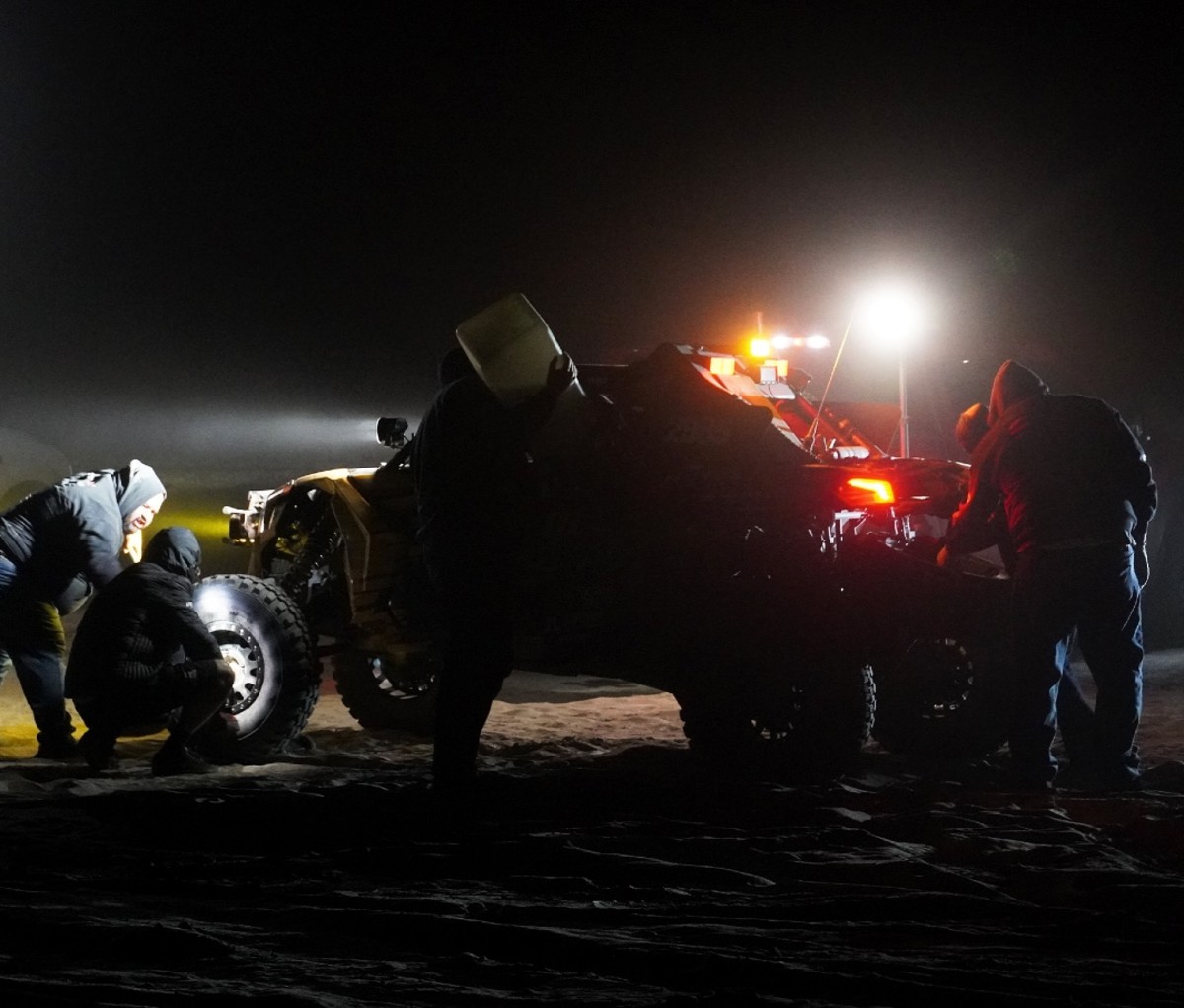 Getting A Little Lost In Baja
All is not lost, Alves and Abraham tell themselves and, to an extent, me in the backseat. But only a few miles later, as we trailblaze a new path in the sand to meet up with asphalt near San Felipe International Airport, AJ Jones comes over the radio to announce another flat. They're too far past us to turn around and can continue with the spare the locals mounted, but he'll need to cut pace and drive carefully for the next hard stint to avoid another flat. Do what you gotta do but also the best you can, since by now we've fallen well behind the race leaders.
Alves pushes the Raptor through dry washes and up over berms, occasionally clipping bushes and small trees hoping to find a clear path to pavement. We can see the lights of town ahead but with no tracks to follow, any wrong turn might cause a potentially serious time suck. This isn't Dakar, where the dunes stretch on uninterrupted. We might hit a riverbank too deep to descend in a Raptor without airing down or risking a highcenter. After ages, Alves turns right to run along a tall fence, then we hit another fence at a right angle. Catastrophe, until the magic of Baja delivers a gate, unlocked and wide enough to grant access despite the Raptor's exaggerated fender flares. Five minutes later and we're back cruising at 80 miles an hour.
Then the Raptor needs gas. We stop quickly to fill up at a Chevron, then blast back up through San Felipe, back through the military checkpoint for a third time, back west on Highway 3 headed for the next driver change. I pass out for about 20 minutes in the backseat as the clock rounds midnight; Alves has been driving for the better part of 14 hours but I think he actually enjoyed the off-roading bit.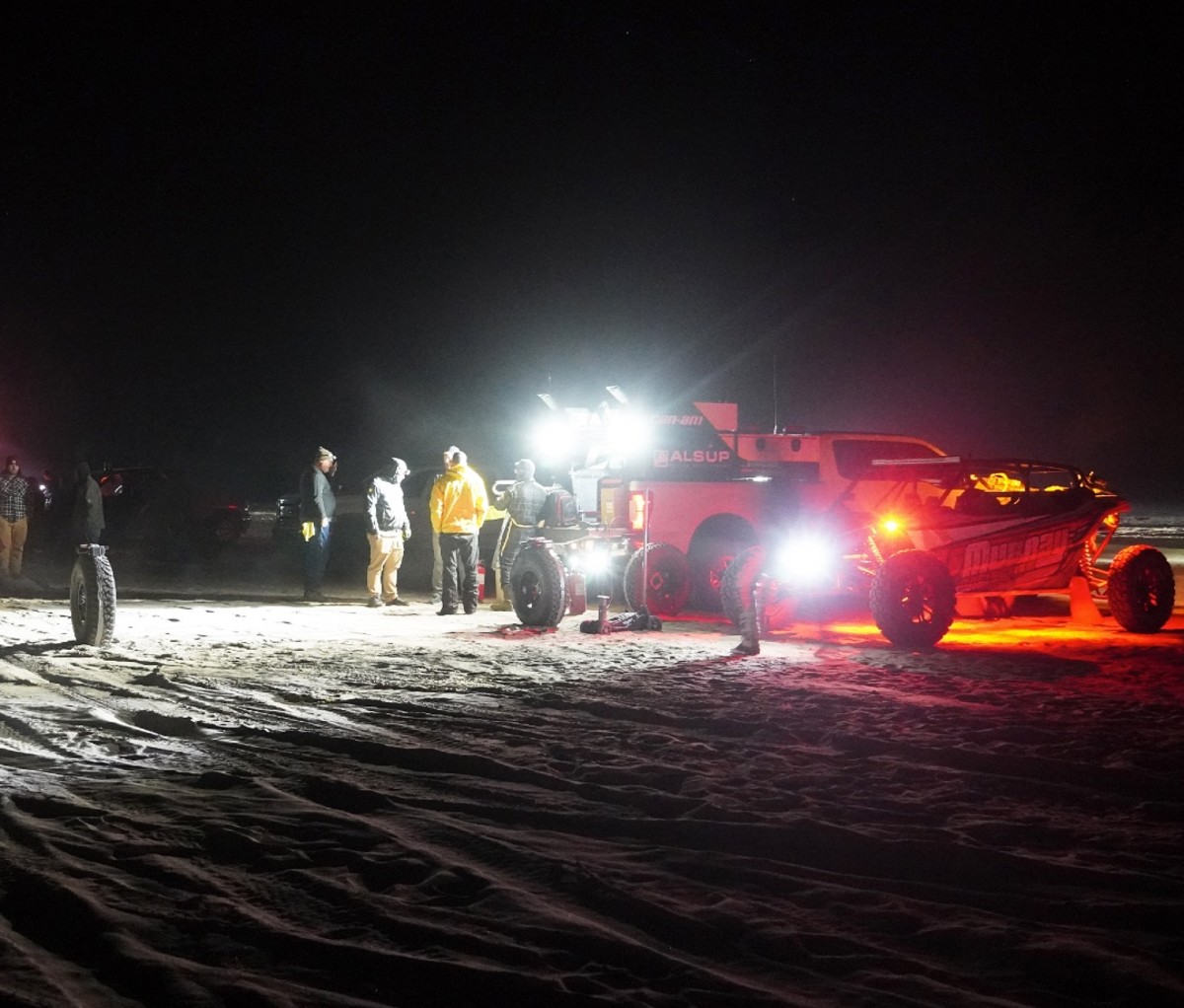 Knocking On the Glass
At mile 475, Naughton preps the team to fix the Can-Am's bent radius arm, replace the CVT belt as a preventative measure, and swap on four new tires with tire balls. Jones and Gugelman blast into the pit at full bore, slamming the cart to a stop and climbing out with alacrity. Ampudio and Ruiz hop in, Alves and Duarte wrenching around the rear left axle while Ampudio's team handles the fuel and tire swaps. At the last moment, someone remembers to toss on a spare tire on with tire balls and Gugelman even hollers that the impact wrench needs a new battery. Good catch. The team needs every base covered to potentially make up a handful of places. The race is halfway done.
Jones and Gugelman hop into a warmed truck for a nap as we caravan down the road towards Lazaro Cardenas in Valle La Trinidad for the next driver swap. After a team taco stop, everyone tries to get some shuteye around 4 a.m. I've been awake for 22 hours other than a catnap. Others haven't slept a wink. Suddenly all the gear packed into the backseat of a Ford Raptor looks comfortable and I nod off.
Knock, knock. Wake up! An Ampudio teammember stands outside the Raptor with urgency. The trailing arm tore off, he tells us, at mile 610. Or maybe it's 580. Abraham pulls up the race map, fingering along to the absolutely farthest point on the course from all three of our Fords parked in a row.
South Racing thoroughly packs spare radius arms, control arms, belts, and tools for just about any job a Can-Am might need throughout a race. Just about the only thing that won't fit? A trailing arm, of course—best laid plans and everything. But hold on, Abraham remembers, any stock Can-Am Maverick trailing arm will work. Do the Ampudios know anyone near mile 600 who might be able to sell a trailing arm before dawn on a Saturday morning? Yeah, that's a no.
Jesse Jones proposes driving on the race course, but apparently a tight canyon means the Raptor will present too much danger to any actual racers he might encounter. Otherwise, getting to Ampudio and Ruiz will require at least a four-hour drive on public roads. As a hedge, Abraham sends Jesse Jones on that fool's errand. It's 41 degrees out, darker than dark, and the Can-Am is probably toast anyway, but this is no time to quit.
Half an hour later, we get word over the radio that the Ampudios managed to find a proper Can-Am Maverick X3 trailing arm pretty close to mile 600. Unbelievable, to say the least—and the race is back on. As the sky begins to brighten around 6 a.m., South Racing preps for the final driver change, plus another potential trailing arm swap, all tires and the spare—at least check the work completed out in the pitch black. The sun rises and I risk a sip of a pineapple-coconut breakfast yogurt concoction, plus another glass bottle of Coca-Cola. Hot coffee sounds a whole lot better, but in Baja, I take what I can get.
On The Last Leg
Jesse Jones arrives back at Lazaro Cardenas, race mile 680, just before Ampudio and Ruiz pull up in the Can-Am. By 8:50 a.m., AJ Jones and Gugelman tear back out onto the course in the full light of morning. As they go, the right rear tire looks out of whack to my eye, way too much negative camber, but I keep quiet. At this point, the goal is to survive the Baja 1000, a win now almost completely out of reach with about 150 miles to go and the leading UTV teams nearing the finish.
The course back into Ensenada should be less technical than the previous 680 miles, plus South Racing had planned for Jones and Gugelman to run this portion mostly in the dark. AJ knows to let off the torrid pace, that with so many delays, the name of the game is smooth sailing from here on. He swings out onto the public road at mile 700 and Jesse Jones calls out that the right rear tire looks off. I should have said something, should have broached my pact of journalistic noninterference. Anyway, Duarte climbs underneath to tighten up a loose radius arm quickly and gets the Can-Am roaring along once more.
Traffic crops up as we drop down towards Ensenada once more, almost exactly 24 hours since leaving. Jones and Gugelman cross the real finish line outside of town with a total elapsed time of 25 hours, 56 minutes, and 42 seconds—good for 10th place, about four hours and 35 minutes behind Pro UTV Forced Induction class winners Austin Weilan and Dylan Schmoke (who also raced a Can-Am). At the later, unofficial photo finish, Ampudio and his family bring out a few sixers of Papas & Beer branded beverages, everyone smiling and fist-bumping, mostly platitudes and plenty of wry wit but not a single mention of tire balls despite, by my count, at least seven flats. Drivers and co-drivers, mechanics and race engineers, photographers and journalists, exhausted one and all.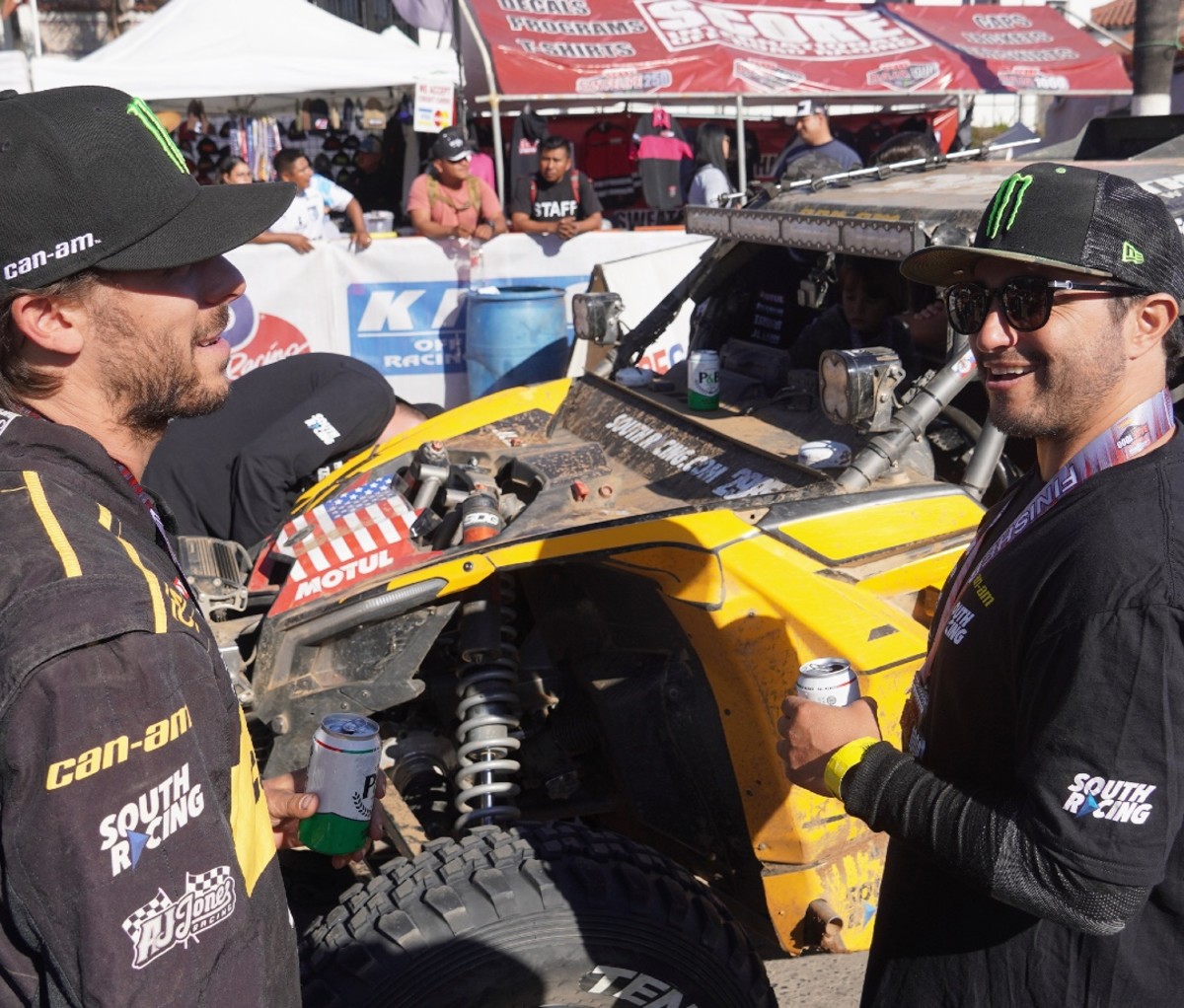 South Racing heads to the 2023 Dakar Rally next but first, the team needs to hit Dubai for a photo opportunity. Just a little holiday called Thanksgiving in the meantime, then business takes over once more. The Joneses want to get home to Arizona and everyone else needs to fly out of San Diego the next day, so the team packs up the Can-Ams, loads up the trailers, crams piles of gear into the trucks, and AJ Jones himself drives me up through Tijuana and back across the border. I get home to Los Angeles past 11 p.m., running on my last legs after 41 hours of chasing what I now know as the most grueling off-road race on the planet.
Nobody but the racers themselves truly understands the brutal nature of competing in a Baja 1000. Not the spectators, who hope to catch the start or finish and maybe a few snapshots where the course comes nearest to public roads. Not the locals, who flock to Ensenada hoping to make a buck or huddle around smoldering campfires in the cold night hoping to witness a few moments of fun over some 20-odd hours of action. Not even the race teams, who sprint around the desolate peninsula trying to perfectly time refueling dumps with driver swaps, breakdowns, and mechanical support. In reality, so much of the off-road racing happens so far off the beaten path that nobody can hope to comprehend the arduous task that each Baja race entails.
I caught up with AJ Jones a couple of days later before he hopped on a plane to Dubai, trying to fit his experience into my own eyewitness perspective. He admitted that driving a UTV in the Baja 1000 beat him up worse than any of his previous races.
"I thought I had a pretty good idea of what to expect going into it and I was pretty blown away," he admitted. "We were thinking that my first San Felipe loop was gonna take around four and a half hours and it ended up taking about eight and a half. It's not easy at all. It's hard on the body, it's hard on the mind. It takes a really long time. "
"You gotta be tough to race this kind of stuff. You gotta be tough to do Dakar, you gotta be tough to race a Baja 1000. That's a huge part of our team and that's a huge part of, I think, kind of who I am too."
"When everything goes wrong and you still keep on pushing through," he said. "You show yourself how tough you can be, mentally and physically, and then it feels good. Even if everything goes wrong, at least you got that out of it. And at least you can kind of feel fulfilled within yourself and you have something to look forward to the next year."
Everyone who loves off-road racing, or even just off-roading, should witness the spectacle of the Baja 1000 at least once. Do it cheap on a loop year by finding a few good pit stops to jump around between. Or better yet, plan to camp along the beach for a couple of nights on a year the course makes the full peninsula run.
I arrived home thoroughly exhausted and absolutely hooked on off-road racing like never before. This absolutely unnecessary war of attrition reveals something that can often seem absent from the human spirit today: explorers and pioneers, all race gas and dusty lungers, testing themselves and their machines in the hardest environment they know. It's less about conquering the rugged terrain than learning how to work through one of the most extreme events on the planet. And deep in the thick of it, even the best of the best quickly find out just how much they still don't know.