After years of eager anticipation, Ineos recently invited select media for a first drive in the all-new Grenadier, a modern analog 4×4 SUV. If you don't recognize the name Ineos, that's because it's a new automotive manufacturer operating under the umbrella of a global petrochemical company (which also has an eponymous cycling team). Unavoidable similarities to Land Rover's erstwhile Defender make the Grenadier immediately unique in the modern age of increasingly complex, computerized four-wheelers.
That unique appeal presents off-roading and overlanding enthusiasts with a quandary, though: Why shell out for retro style combined with old-school capability and modern tech when a 25-year-old Toyota or Defender with an aftermarket Apple CarPlay head unit might do the trick?
Ineos unabashedly admits that founder and CEO Jim Ratcliffe originally conceived of the Grenadier a few beers deep in a Belgravia, London, pub called—surprise, surprise—The Grenadier. After repeated delays and around $1.8 billion later, Ineos debuted the SUV by way of a massive expedition through the Scottish Highlands and pastoral English countryside, where mud, rocks, bomb holes, and river crossings might best show off the Grenadier's immense capabilities.
But first, the basics. To help reduce development cost and time, Ineos sourced powertrain components from the best in the biz: a pair of turbocharged inline-sixes from BMW, one gasoline and one diesel, plus ZF's excellent eight-speed torque converter automatic and a true two-speed transfer case from Tremec equipped with a manually locking center differential. Carraro solid axles front and rear also house optional electronically locking differentials, engaged via immensely satisfying switchgear on the rugged, simple dash and ceiling.
An Adjustment Period Required
I needed those front and rear lockers almost immediately on a foggy morning at Stonor Park, where 29th-generation owner Lord Camoys, aka William Stonor, welcomed a host of Ineos staff and their journalist guinea pigs to traipse around on slick tracks through forests and mud pits. Dipping the Grenadier into the steep incline of a so-called "bomb hole"—though my British co-driver assured me the hole was not, in fact, made by a WW2-era bomb—a six-foot wide, foot-deep puddle of mud immediately greeted our noses. Luckily, the design maximizes approach and departure angles, at 35.5 and 36.1 degrees, while the low, narrow hood—a holdover from previous eras of body-on-frame SUVs like the original Defender—allowed plenty of sight lines to clearly see what approached.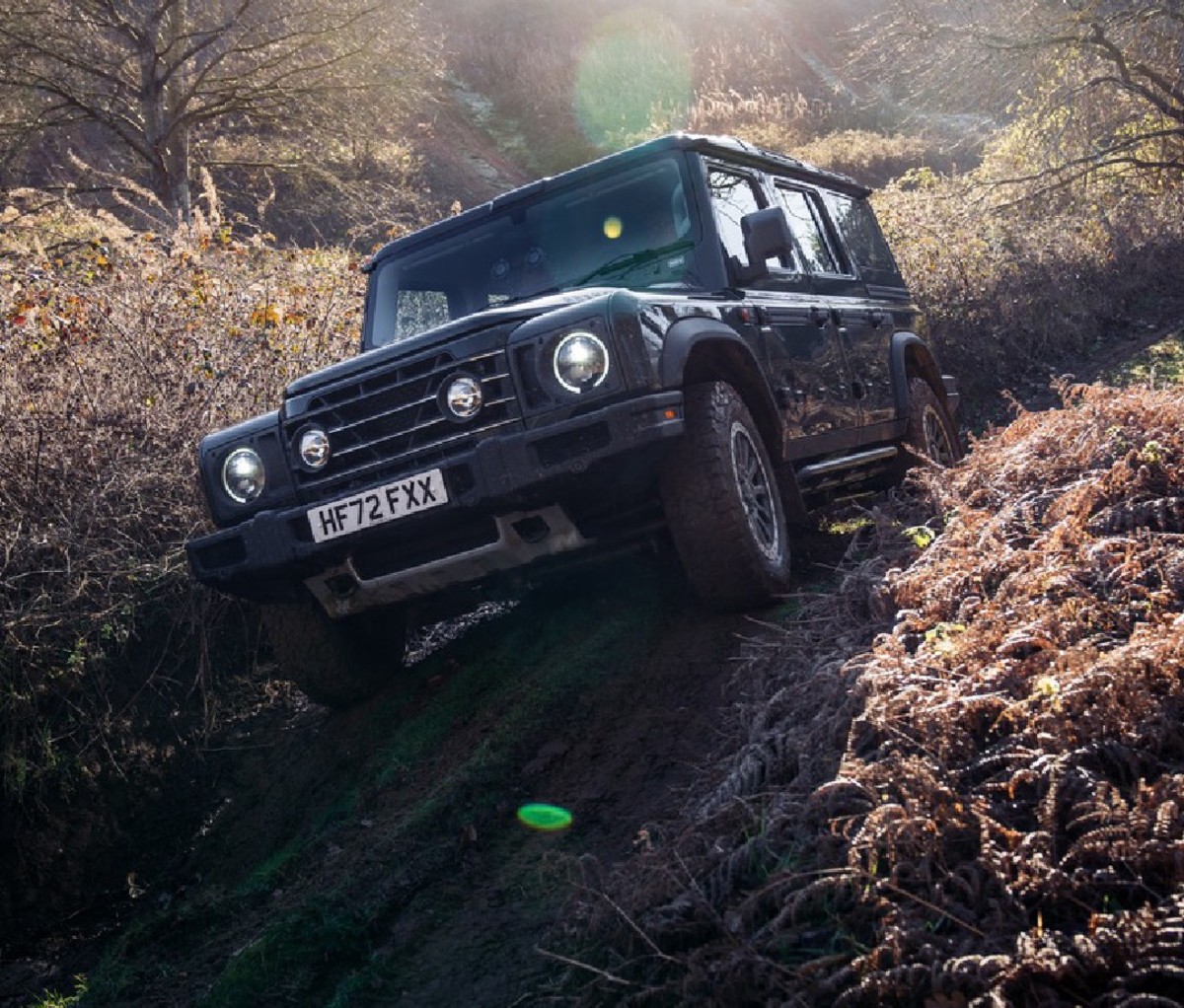 User error, then, must be to blame for the fact that I gave the accelerator pedal far from the requisite beans to power up and out of the slick, steeply walled depression—either that, or a bit of turbo lag from the gasoline-powered B58 inline-six at low RPMs. But a quick reverse later, two more diffs engaged via ceiling buttons, a bit of left-foot braking to rev that mill up, and we roared out of the pit, spraying mud, leaves, and gravel far afield.
Other than in that single most challenging moment of the day, however, the Grenadier performed just about exactly as I hoped. The true experience requires leaving any performance comparisons to modern unibody SUVs at the door—or border—and climbing into this truck with a mind for savannah safaris, glacial excursions, or extended jaunts into the Australian Outback.
Unlike the participants who lucked out with a more remote adventure in Scotland, we never approached the full limit of the Grenadier and didn't even air down the 31-inch BFGoodrich K02 All-Terrain tires below 35 PSI (Bridgestone Duelers come standard on base models). And yet, a few climbs up sloppy grass slopes only led to a bit of slip and slide. By that point, I knew to select the "Off-Road Mode" button on the ceiling, which reduces traction control intervention, enhances throttle modulation, and nudges transmission shift points upward in the hopes of smoother power delivery.
The setting even turns off exterior parking sensors to prevent bushes and shrubs from prompting incessant dinging, as well as door alerts and seatbelt sensors—no faux beer openers required to stretch far forward spotting gnarly obstacles or during steep descents. And for those off-roading newbies in our group, the single best braking-based hill descent control system I've ever used probably made scrabbling down such slippery gradients an absolute cinch.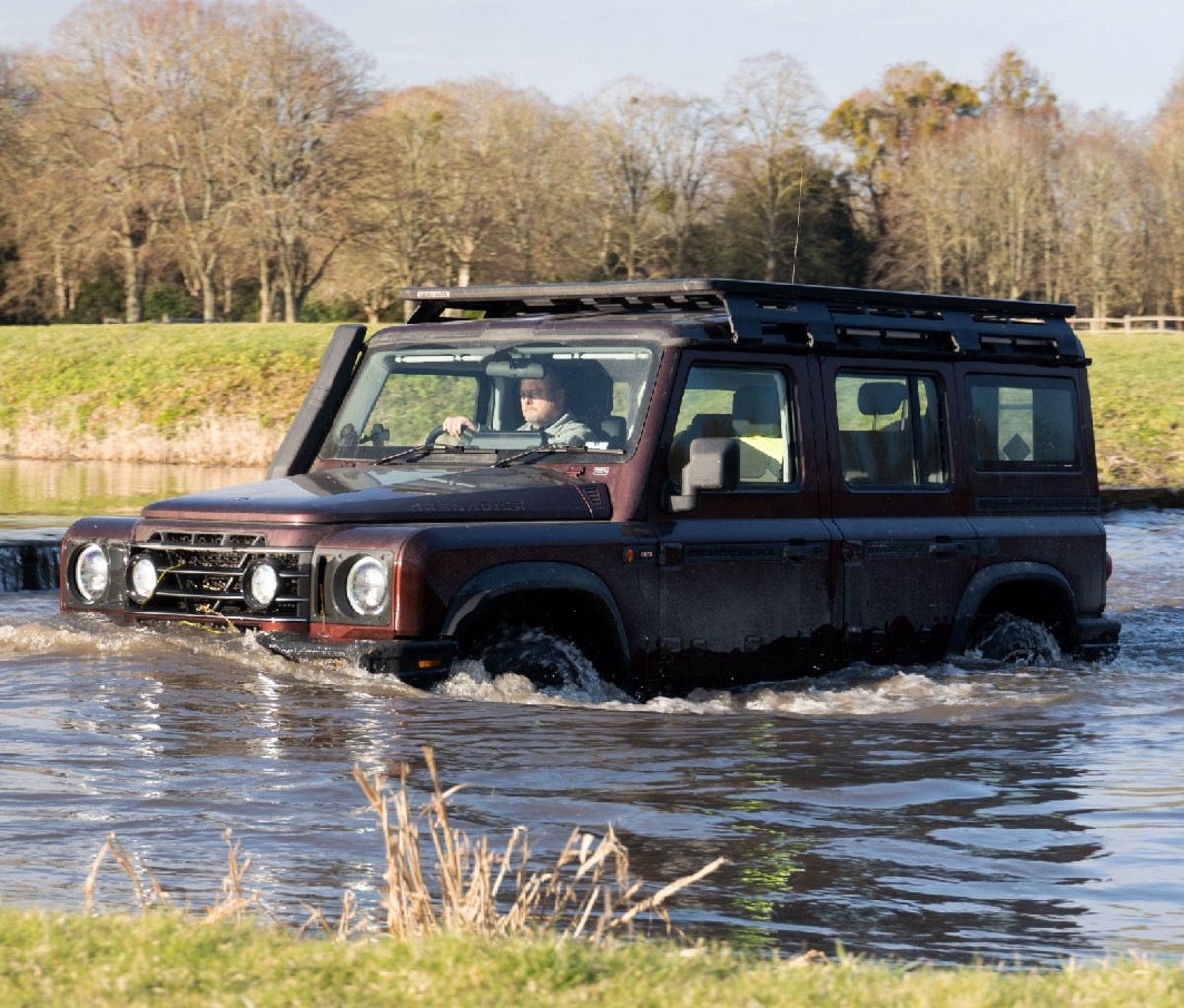 I also fiddled with a first-to-me Wading Mode that Ineos pairs with additional door seals to allow for an official fording depth of 800 millimeters (or just over 31 inches, to completely submerge the tires). But other than apparently reducing some electrical function in the car and switching off fans in the engine bay, the system doesn't even use the optional snorkel, which is intended to reduce dusty air intake on trails rather than truly seal off the powertrain.
Not Quite Straight from the '90s
All the details catered to every last off-roading concern indicate how much starting from scratch allowed Ineos to spec the Grenadier almost perfectly in hopes of attracting Wrangler or Gladiator drivers with another level of comfort, current Defender owners feeling overly plasticine and excessively computerized, or G-Wagen buyers sick of getting dirty looks at Whole Foods.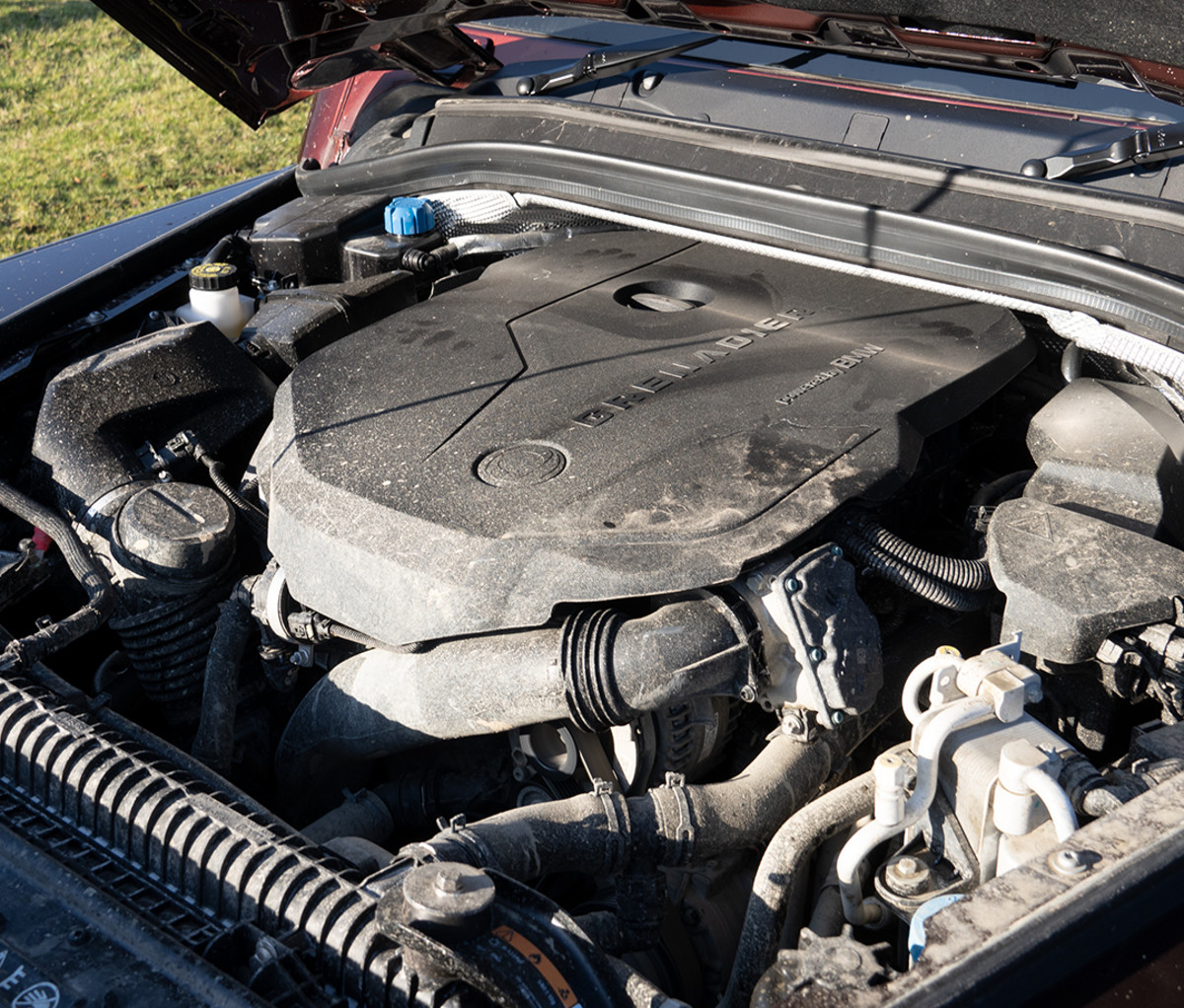 On-road dynamics definitely arrive as a secondary concern, however. Much like with Off-Road Mode activated, the gasoline engine's 281 horsepower and 332 lb-ft of torque feels far more than adequate on the tarmac thanks to the ZF's gearbox's generous gear ratios and shift points. But even on relatively smooth British roads, the Grenadier's handling—or lack thereof—definitely serves as a reminder of the coilsprung, solid-axle SUV's dimensions. with a bit more body roll and choppiness than I expected given the Bilstein shocks and Eibach springs.
Then I remembered the non-disconnectable sway bars, tuned to allow those solid axles plenty of articulation while stepping up wavy whoops or into off-camber craters. At least minimal wind and tire noise, especially compared to Jeeps, indicates significant investment in NVH from a brand-new automotive brand building such an upright, square vehicle. It's nothing so terrible as to make long road trips to the trailhead unbearable, just more in line with a 1998 Mitsubishi Montero than a Gladiator.
That's not to say this SUV arrives straight from the technologically primitive 1990s, though. The steering wheel and dash's large buttons and knobs are complemented by a 12.3-inch touchscreen up top with a native UI system that integrates wireless Apple CarPlay and wired Android Auto. A nifty GPS system allows for breadcrumb mapping and uploading or downloading of GPX files. On frigid days, a CCI knob that provides redundant controls for the touchscreen while wearing gloves even offers selectable scrolling directions for left- and right-hand-drive configurations.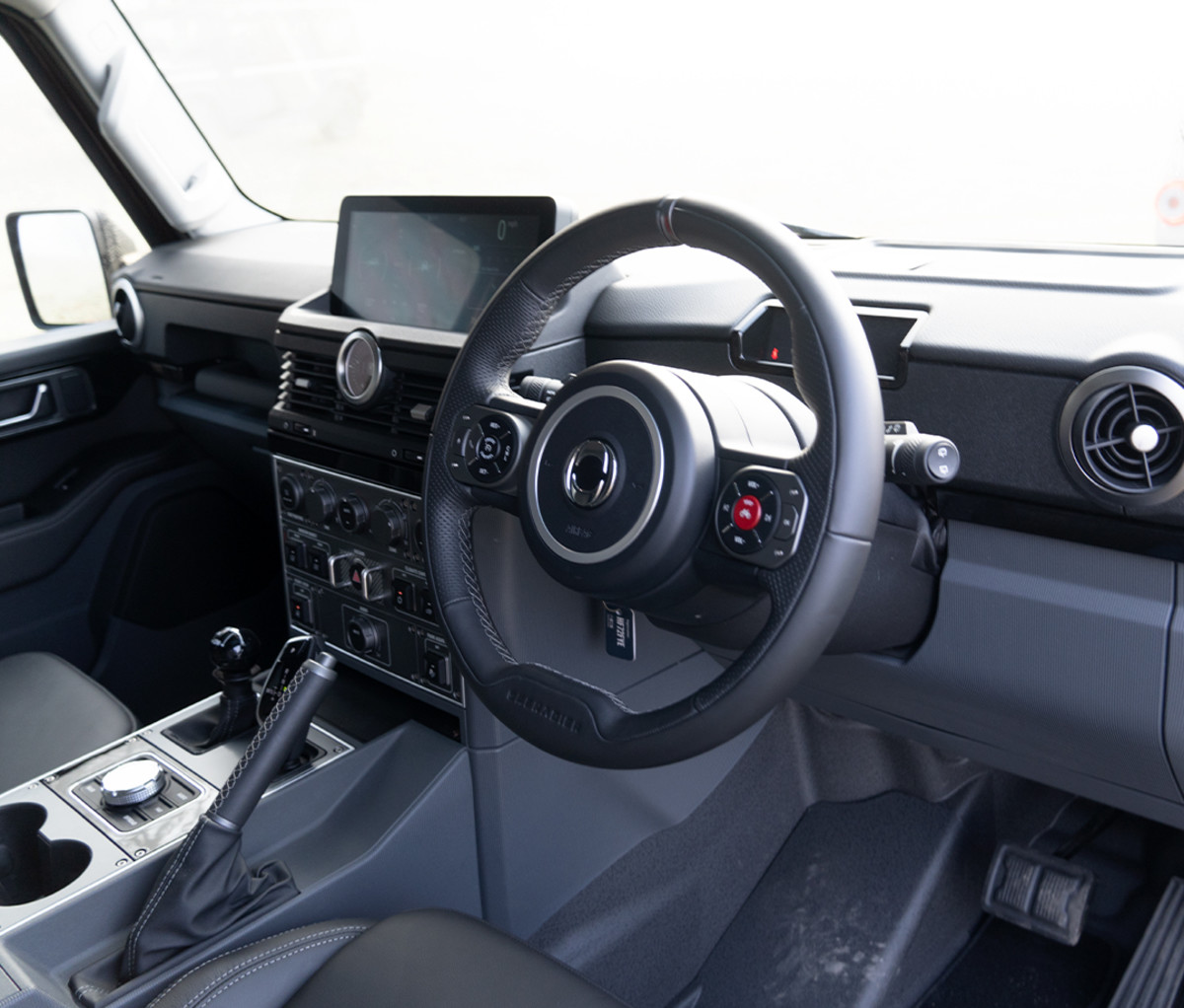 Nothing on the Grenadier feels random and the Ineos team spent the day peppering every journalist with questions to find out what we thought after such an extended development period. In terms of nits to pick, they seemed aware of most of my notes already. The angular gear selector—shared with BMW and looking out of place next to the Tremec transfer case's cue ball—is actually a ZF design, purposefully unchanged to make potential parts easier to source. The rear seats don't lay flat for sleeping inside, a decision to allow the battery compartment beneath the rear bench to stay waterproof. The Tremec transfer knob sometimes requires some serious muscle, while the front and rear lockers often hesitated to unlock until I made a hard right turn, exactly what you don't want to do with the front diff locked. Ineos response: Yeah, mate, we know, we're already working on it.
Building Excitement After a Long Wait
Our day in the Grenadier SUV wrapped up with a slog through London traffic on the way to dinner at The Grenadier pub. While the off-road features and activities must make up the majority of a review for such a purpose-built vehicle, slowly entering the affluent neighborhood of Belgravia surrounded by Lamborghinis, Rolls-Royces, and Bentleys in traffic gave me a chance to consider the SUV's interior design.
In base form, cloth "Utility Trim" seats might combine with the overtly simplified styling to produce a spartan aesthetic. But the more fully loaded Trailmaster and Fieldmaster packages, developed in partnership with the outdoorsy Ineos fashion subsidiary Belstaff, up the creature comforts significantly. Premium saddle leathers intentionally allowed to patina, Recaro seats, and a sweet analog compass with digital altimeter all lend a noticeable air of luxury amid the rugged four-wheeling focus.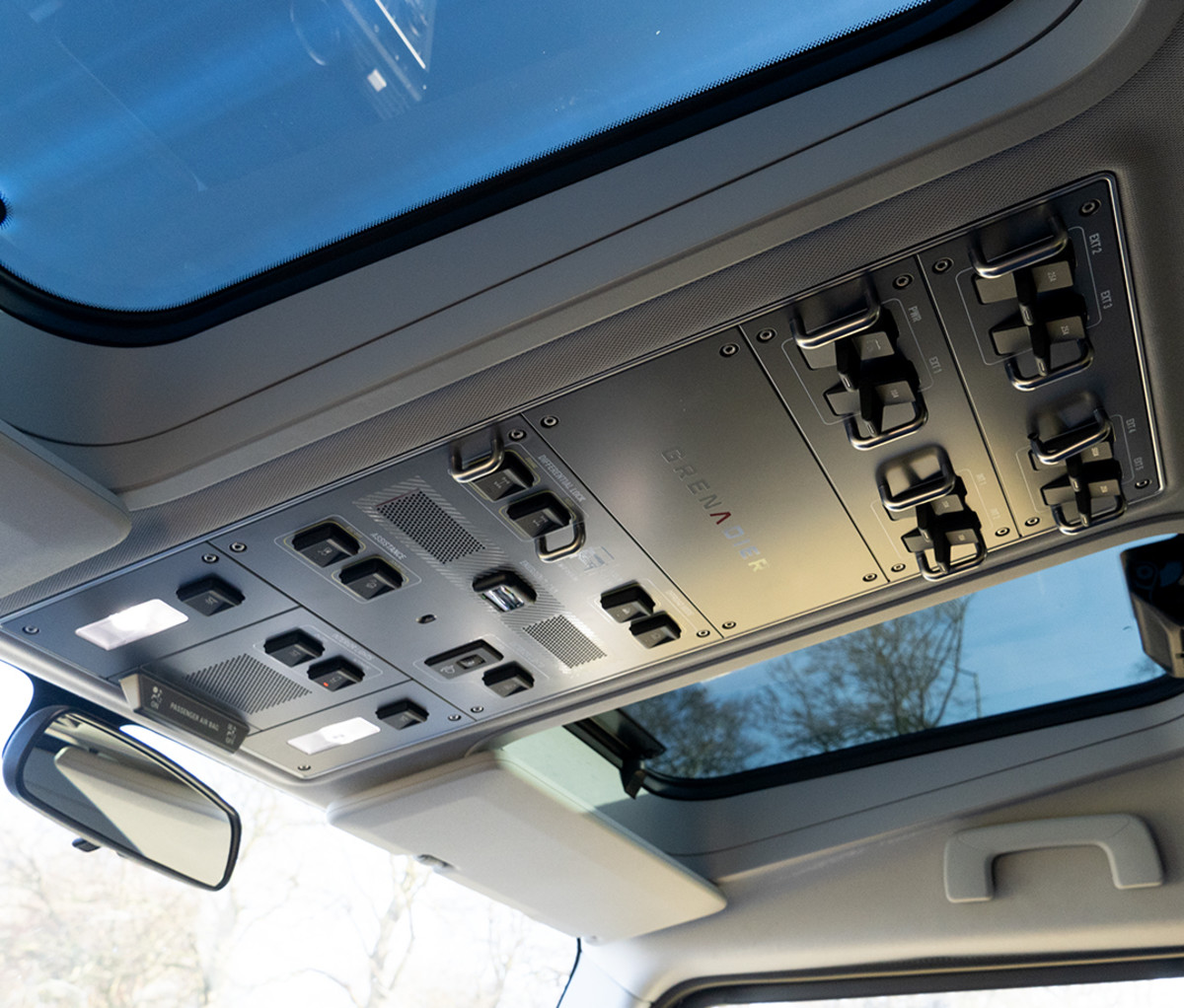 Those options and a bevy of exterior accessories ranging from rear ladders to roof racks, rock sliders, and lighting packages come either as part of the trim levels or singularly as standalone selections, helping potential buyers perfectly sort out the higher prices for higher specced Grenadiers. More goodies on the way include heavy-duty skid plates and a custom sleeping platform topping drawers the same height as the rear seat's folded position.
For a niche vehicle, the Grenadier arrives just about perfectly equipped in my eye. The fact that the base version equipped with two seats and steelies starts at £55,000 (or around $66,000 based on current currency conversions) surprised me thoroughly—not exactly cheap, certainly, but I expected well into six figures based on the roaring industry for classic Defender restomods.
The real question I left London pondering—the question the Ineos team can't wait for the market to answer—is exactly how big that niche is worldwide. A full order roll from the jump provides some early reason for optimism given that most customers haven't even seen in person, much less driven, the car in question. And a relatively acceptable wait period of six to eight months for European buyers, versus two years or more currently for G-Wagens, sounds somewhat acceptable for a new automaker building a new model deep in an era of unprecedented supply chain challenges.
Deliveries to the United States may begin as early as Q4 of 2023, though pricing has not been officially announced and the devastating confirmation that no plans currently exist to homologate the diesel version left me a little disheartened. Apparently, low take rates for diesel Wranglers and Gladiators led to that decision, even if the Grenadier's BMW diesel avoids about half of the excessive weight gains of the Jeeps at only just over 200 pounds of additional heft (including a set of uprated Eibach springs to compensate).
The Grenadier's Already Sparking Ineos Rumors
A few hints about forthcoming pickup trucks definitely piqued my interest. Stretching the Grenadier's wheelbase by 10 inches and reducing the departure angle might allow for a reasonably long bed on the back of a crew cab—and maybe even a full eight-footer tacked on the back of a two-door or king cab, in the vein of a 70 Series Land Cruiser. "Maybe" being the operative word here, though, as nobody in a position to confirm such hints actually acquiesced to my repeated pestering.
For city dwellers, hydrogen-powered and battery-electric demo cars will roll out soon—keep in mind that Ineos is a multi-national petrochemical corporation, after all. A skateboard battery layout will likely change the driving dynamic compared to the body on frame, and whether the plans can help to compensate for respectable, if not excellent, fuel economy across the fleet remains a question for future driving expeditions.
As we celebrated a successful media debut, G&Ts flowing, production for the Grenadier SUV is already underway at Ineos Automotive Ltd's Hambach plant near the border of France and Germany. Deliveries to European dealers should begin any day, then on to customers shortly thereafter. So, hopefully, by the time those first Grenadiers start racking up adventure mileage over the summer, we should know more about build quality, arguably the biggest concern for any upstart automaker hoping to establish a reputation for rugged reliability.
Based on a surprising lack of creaks and rattles during this first run through English countryside, and after a long trek down from the northern tip of Scotland, I left London pleasantly surprised that the Grenadier lived up almost perfectly to my expectations and relatively confident that Ineos can at least hope to steal a strong raft of conquest customers from Jeep, Land Rover, and Mercedes-Benz.