The new Arctic Circle EV concept ups the Polestar 2's fun factor on an ice track in Quebec.
Sliding fully sideways in a Polestar 2, I glance incredulously back at the two-time 24 Hours of Daytona winner urging me to mash the accelerator pedal from the passenger seat. My mind balks at the snow berm rapidly approaching from our left before I relent and counterintuitively nudge my right foot into throttle, setting the rear tires spinning and squealing until the fronts hook up to yank us forward and away from impending collision.
The airy cabin fills with laughter as I straighten out the wheel, heading down a low grade farther into the icy woods north of Montreal. It's perhaps one of the least-expected places to find an affordable electric vehicle in the midst of rally-style ice drifting. But as much as Volvo's EV spinoff Polestar aims to take down the Tesla with a combination of Scandinavian design and direct-to-consumer sales, Volvo used to be all about performance—and Polestar, before said spinoff, used to be Volvo's championship-winning race division.
So, perhaps I should've left my incredulity about scene and setting at the border when I received an invitation to visit Quebec's Mecaglisse Circuit for a day in the new Polestar 2 "Arctic Circle" concept. It promised to further unleash the potential fun factor of a skateboard EV platform in the snow. And it delivered.
Coaching at the Edge of Traction
Polestar made the wise choice not to toss us straight into the slip and slide. Instead, we're provided a team of coaches with years of road-racing experience. My Daytona-winning instructor, Jean-Francois Dumoulin, hopped into the driver's seat first to provide a quick primer on each teaching module at Mecaglisse. We started with a slalom and braking demo to establish a bit of trust in the 245-millimeter-wide Michelin X-Ice winter tires and the Polestar 2's low-end electric power delivery.
Given that the Arctic Circle is a one-off concept, we spent most of the day in a fleet of all-wheel-drive Polestar 2s equipped with the optional Performance Pack that bumps output up to 469 horsepower and 502 lb-ft of torque, plus Brembo brakes to help bring the approximately 4,500-pound four-door to a stop with a bit more ease and modulation.
EVs almost always weigh significantly more than internal combustion cars, and the old conversation about narrow tires producing more pressure on the snow came up multiple times throughout the day (with no real conclusion reached) as we waffled about better tire construction, higher sipes and blocks, and straightline versus lateral grip.
Related: Drifting at 189.5 Miles Per Hour
By the second lap through the slalom and braking zone, I felt more trust and confidence building in the tires, the car, the track, and Dumoulin as he coached me where to accelerate, hold steady, let a bit of regen dip the nose, and hammer the brake pedal hard into full ABS.
Next, we headed to a pair of circular skid pads. Unlike typical automotive journalist testing, this module wasn't designed to acclimate us with max g-forces. Instead, the goal was to teach us how to control oversteer and understeer at the absolute edge of a spin. Each lap spurred tires to scrape the previous night's thin dusting of snow off the ice, like little Zamboni machines polishing the already-sketchy surface. So when I flipped on the Polestar 2's g-force meter, the readout proceeded to show laughable maxes of .1 or .2 g during our nearly futile attempts at producing smooth, steady donuts.
The skid pad exercise also required toggling ESC to Sport, though not fully off, given the electric motors' ability to immediately rev up to max RPMs with zero resistance. As great as that prompt power delivery sounds, the process proved much more difficult than expected—a strange interplay between pushing and pulling, keeping eyes locked on where you want to go. The hardest lesson of all: Once the steering wheel reaches full lock, the jig is up.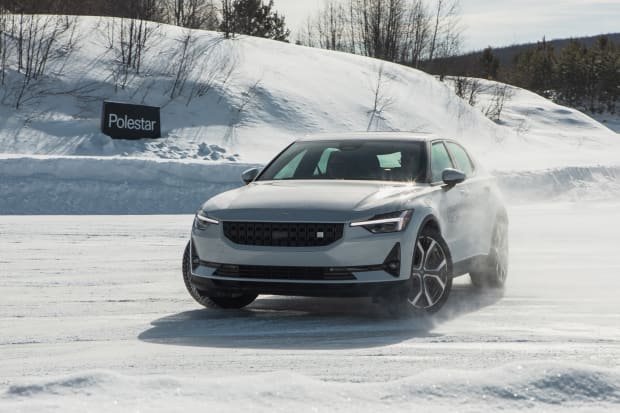 Fast Hands, Slow Drifts
Feeling slightly more confident in our abilities, Dumoulin then took us over to a new track arrangement—this time closer to a real road circuit without a slalom start. Translation: higher speeds and harder braking before a tight hairpin and an icy chicane. Now almost at one with the predictable weight and balance of the Polestar 2's skateboard chassis, I focused more on minor differences in road grade, like the various shades of white indicating scrabbling snow, ice, or a mixture of traction surfaces, plus the by-now-noticeable squeal of tires scrabbling for grip on the slop.
Of course, a day in the snow with Polestar wouldn't be complete without a solid introduction to the Scandinavian flick. So we wrapped up with two modules that made for the highlights of the trip—on a series of laps around a lima-bean shaped oval purposefully laid out for wide transitions from left to right slides. The berms rose higher here, almost shoulder height. After each slow arc, we headed back down the gentle descent of the track.
Related: A Guy's Guide to Surviving Winter
Dumoulin once again showed off the kind of deft, light steering touch that pros develop over countless hours at the limit. Somewhat ominously, though, even he needed to overcorrect at times. I plopped into the driver's seat, hoping just to avoid 180- or 360-degree spins a few of my compatriots suffered during their earliest attempts at flicks from side to side. That timidity probably took the pep out of my first few laps, with Dumoulin relaying the message that I should steer with that stubborn right foot rather than with, y'know, the steering wheel.
Finally, the flow I can usually find on a track started to set in. Take the corner slow and tight at entry, find a bit of grip on the nose, then hit that go pedal with a quick pop to scoot out the rear wheels. Even more than most internal combustion cars, the Polestar's flat weight distribution creates as close to a predictable slide as possible, with minimal body roll.
Plus, that instantaneous power delivery allows for the proper application of grunt without worrying about boost building or fuel cutoff—not to mention automatic transmissions shifting gears at the perfectly wrong time and interrupting the magic.
Most importantly, I managed to avoid spinning out and thereby kept my fragile ego intact—at least, that is, before our lunch break.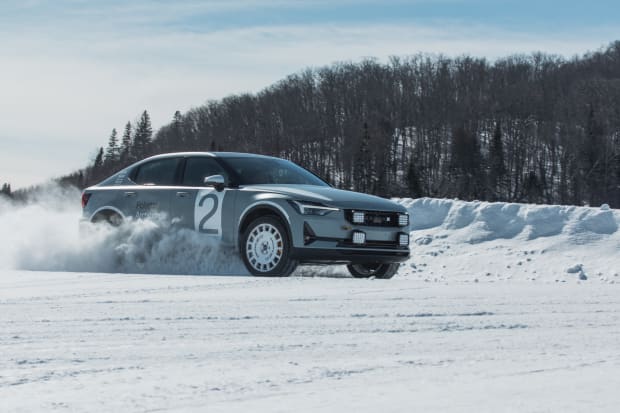 Taking Out the Arctic Circle Concept
Two-thirds of the way through a plate of salad and risotto, Dumoulin makes a face at me from across the room. Am I ready for more? Yes, please! So we rush out and he hops back into the driver's seat to show off the Arctic Circle's enhanced capabilities on the same lima bean layout.
The concept rides on custom Michelins with exactly 490 4-mm metal studs per tire, providing just a hint more traction than rubber-only winters. Dumoulin seems happier in this car, more confident, able to flick out and catch slides with a bit more aplomb despite the sun starting to slick up the icy surface.
Related: Everything to Know about SRX, the Latest Motorsport Series
When it's my turn again, the thought of spinning out or putting a one-off concept into a berm sets my mind on the devastating path toward timidity. But the newfound grip and predictability quickly change my mindset; time to push harder and snap from side to side with more alacrity. The Arctic Circle rewards each moment of hard throttle, steering input, and weight transfer all the more—right until I ask for too much past the slip angle and earn my requisite slow-mo 180. Hey, at least I never slab-sided into a berm, right?
Any group of amateurs on an ice track will humble up fast. Everyone loses control, everyone spins, everyone slides. That's why we're in a controlled environment. But Polestar managed to put on an event that perfectly shows off the Arctic Circle concept, which raises the base 2's ride height an additional 30mm by way of adjustable Öhlins dampers set to nine clicks from softest, plus 30 percent softer springs and cosmetic goodies like white 19-inch OZ racing wheels, rally lights, Recaro seats, and gold-gilded tow hooks (to match the Öhlins) out at the ready.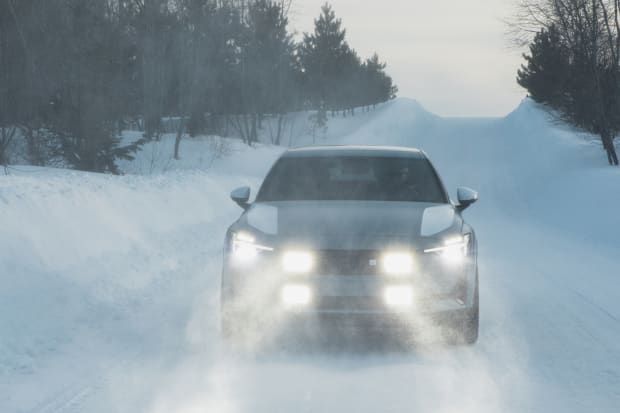 Hoping for a Production Version
The Arctic Circle as a concept continues to reveal the multifacted capabilities of the Polestar 2 as an eminently capable platform. Think of it as a lifted variant of the more road-focused, hillclimb-inspired BST edition 270, which will enter limited production. The Arctic Circle sure looks the part with snow sprayed across the boxy fenders and knobby tires, plus the softer suspension tuned perfectly to eat up road imperfections and produce a bit more comfortable body roll. But it almost certainly will not survive past the fun phase.
Then again, as more and more Tesla owners already accustomed to the realities of full EV lifestyle inevitably explore other options, perhaps this will further nudge Polestar in the right direction. As is, the base single motor 2 will already switch to a rear-wheel-drive variant in a few months as Polestar introduces new batteries with more capacity, a more efficiency-focused motor for the front of all-wheel-drive variants, and increased range to go along with more outright performance. It's the best of all worlds, really, since the switch to RWD will also reduce the current entry-level Long Range Single Motor's nasty FWD tendency to liftoff oversteer at highway speeds.
The 2's evolution shows how much Polestar's guiding light still shines on the pure-play ethos, an investment pun that seems all the more relevant after driving both the BST edition 270 and the Arctic Circle.
Throw in the 02 Roadster concept, which is also confirmed to enter production as the 6 (after a pair of requisite crossovers and the 5 flagship sedan) and the future looks even brighter. In the meantime, rest assured that plenty of folks at Polestar are on the right track if a journalist driving a mildly modified commuter EV on a winter track at Mecaglisse can make a two-time Daytona winner burst into childlike laughter.