Every year, the run-up to the Super Bowl always features a bunch of one-off products and targeted marketing that riff on football culture and, by extension, the Big Game itself. Among those products, beer and snack food are obvious and well-worn categories. This year, processed meat giant Hormel has introduced a mashup of those beloved game-day delights with its Hormel Chili Cheese Brew, and I took a gustatory gamble and gave it a taste test. Yeah, that's right, the brand came out with a beer that's supposed to taste just like a dip made of cheese and chili.
Normally, sitting down in front of a football game—whether actually at the event (good luck with Super Bowl LVII, where even the cheap seats are running almost $5,000 a ticket) or plopped in front of the TV at home—with a brew and a bowl of steaming chili cheese next to your favorite dippers is a wonderful combination. Scooping up the hearty mix of meat chunks, tender beans, and melted cheese with a salty tortilla chip and then chowing down on the gloppy appetizer gets addictive. Washing it down with a crisp, cold lager brings the whole snack-laden Super Bowl scene full circle. It's satisfying and refreshing.
But putting it all together in a can, at least in Hormel's latest creation (abomination?), offers a different result. It's obviously a stunt to get attention—mission accomplished, marketing wizards—and the beer's limited run is not just because of the short time the Super Bowl looms large in the zeitgeist. It's because a beer flavored with, to quote the can label, "cheesy cheese, chili spice, and last Monday night," is nothing more than a novelty. You would never drink this other than as a joke on Super Bowl Sunday.
You're probably as perplexed as I was by what they could be referring to with "last Monday night." Monday Night Football? Monday night blackout? A Monday night spent praying to the porcelain god? Any way you slice it, there's no good "flavor" coming from that phrase. How do I know that? Because Hormel sent me a 4-pack ($24; hormelchilicheesebrew.com) to get down on before the big game. I did it in service to you, dear reader.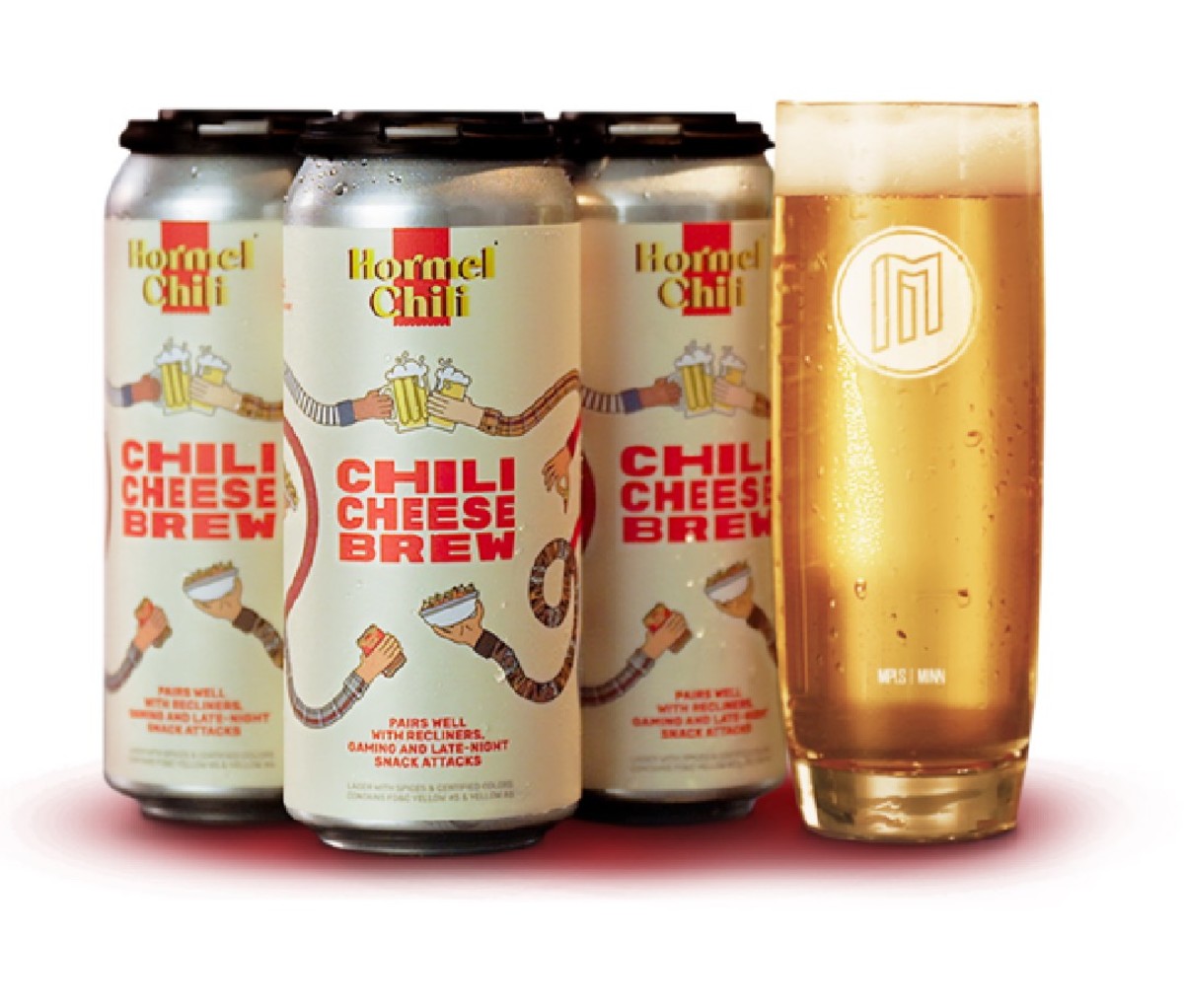 Hormel's Chili Cheese Brew (made by Modist Brewing in Minneapolis—clearly the right partner since their tagline is to "make beers that are traditionally impossible") is an American lager brewed with Minnesota pilsner barley malt and flaked corn to build the corn chip-flavored base. It's then flavored with spices and cheddar cheese powder to match the taste of a chili cheese dip.
I'll give them that: The beer is expertly made. It doesn't taste synthetic or fake, and the beer base provides a great light-ish lager flavor that meshes well with football viewing. In addition, the spices and cheese powder (this is not a vegan beverage, as it contains dairy) are spot-on. The first sip is refreshing; you get that crisp, clean beer swallow. But that experience is quickly obliterated by the creep of a spicy, meaty, cheese taste.
After a few more quaffs, though, the combo of these two competing flavor profiles in a beer became downright disconcerting, if not disgusting. I put my cold can back in the fridge and put away a few Miller Lites to cleanse my palate. That allowed the taste of the Chili Cheese Brew to dissipate, and I vowed to give it another chance after enjoying some normal beers. Fast forward: Nothing changed. The combo of flavors was still revolting to my palate, and seemed to get even worse.
But I will never leave a wounded solider behind, so I made my way to the bottom of the slowly warming, 24-ounce can. It ended up tasting like vomit by the time I finished. (My wife, though, rather enjoyed her few—read: few—sips, mentioning that it reminded her of Corn-Quistos chips from the '80s.) More Miller Lites had to be consumed to erase the taste memory from my mind.
Regardless, good on Hormel and Modist for creating a challenging and somewhat-inspired marketing campaign to kick off Super Bowl Sunday madness. Last year, Hormel gave away a Hormel Chili Cheese Keg—a self-contained appetizer of Hormel chili and cheese inside a fully functioning half-barrel keg—and I applaud the brand for leaning into its flagship recipe. You should definitely make a version of it for your Super Bowl sit-down. (Read Hormel's suggestions here.)
Just keep it separate from your pint of beer.