With the new Ducati DesertX adventure bike, the brand hopes to revive its Dakar Rally and Desert Sled in a more purposefully tailored package than the current optional trim available for the entry-level Scrambler. Bold Stormtrooper-esque styling harkens back to enduro designs of the 1980s, while crash bars and a skid plate contribute to an overall aesthetic that never fails to turn heads, even among members of the motorcycle-ignorant populace.
The Ducati DesertX is available in either Star White Silk that highlights a pair of headlights that mimic a robot's eyes, or an RR22 livery that references Audi's RS Q e-tron racecar. The upright, angular profile represents a marked departure from the Scrambler and falls more in line with the newly redesigned Monster—but also creates a bit of an optical illusion.
Make no mistake, this is a big bike, comparable in size to the Multistrada with a standard standover seat height of 34.4 inches. At 445 pounds and with 9.8 inches of ground clearance, the DesertX's center of gravity should seemingly ride high up. And yet, the old Ducati magic produces a continuously surprising level of refinement that helps to set this bike apart even more than the futuristic design.
Courtesy Image
Italian for Overlanding
Cradled within the crisp plastic and steel trellis frame, a 937cc Testastretta V-twin cranks out 110 horsepower and 68 pound-feet of torque. Those figures should sound familiar since the DesertX borrows the powerplant from the base Monster, Multistrada V2, Hypermotard, and SuperSport 950. And exactly this type of increasingly modular engineering at Ducati should hopefully signal new levels of reliability under Volkswagen AG's ownership, as the Desmodromic valves only require checking clearances every 18,000 miles—music to ADV rider ears. An optional titanium Termignoni race exhaust setup also helps to improve the engine's soundtrack, though not to an overwhelming or unlivable volume.
A six-speed transmission with eight-clutch discs and extremely positive engagement helps bridge the power gap between DesertX and Multistrada V4 with shorter gear ratios for first and second, plus tall gearing in sixth for highway cruising. Hefty pegs and levers allow an easy heels-down, stirrup-style riding position while seated or standing. And upright handlebars and excellent ergonomics around the tank contribute to comfort and confidence during harder jockey work out of the saddle.
Ducati even rotated the brake and clutch levers, as well as the switchgear, forward and down on the bars, for easier use while standing, though the overextended wrist positioning can begin to feel a bit awkward during regular road riding. The Brembo brakes themselves also create a bit of a strange sensation, tuned as they are to provide a wide range of modulation in slippery off-road situations.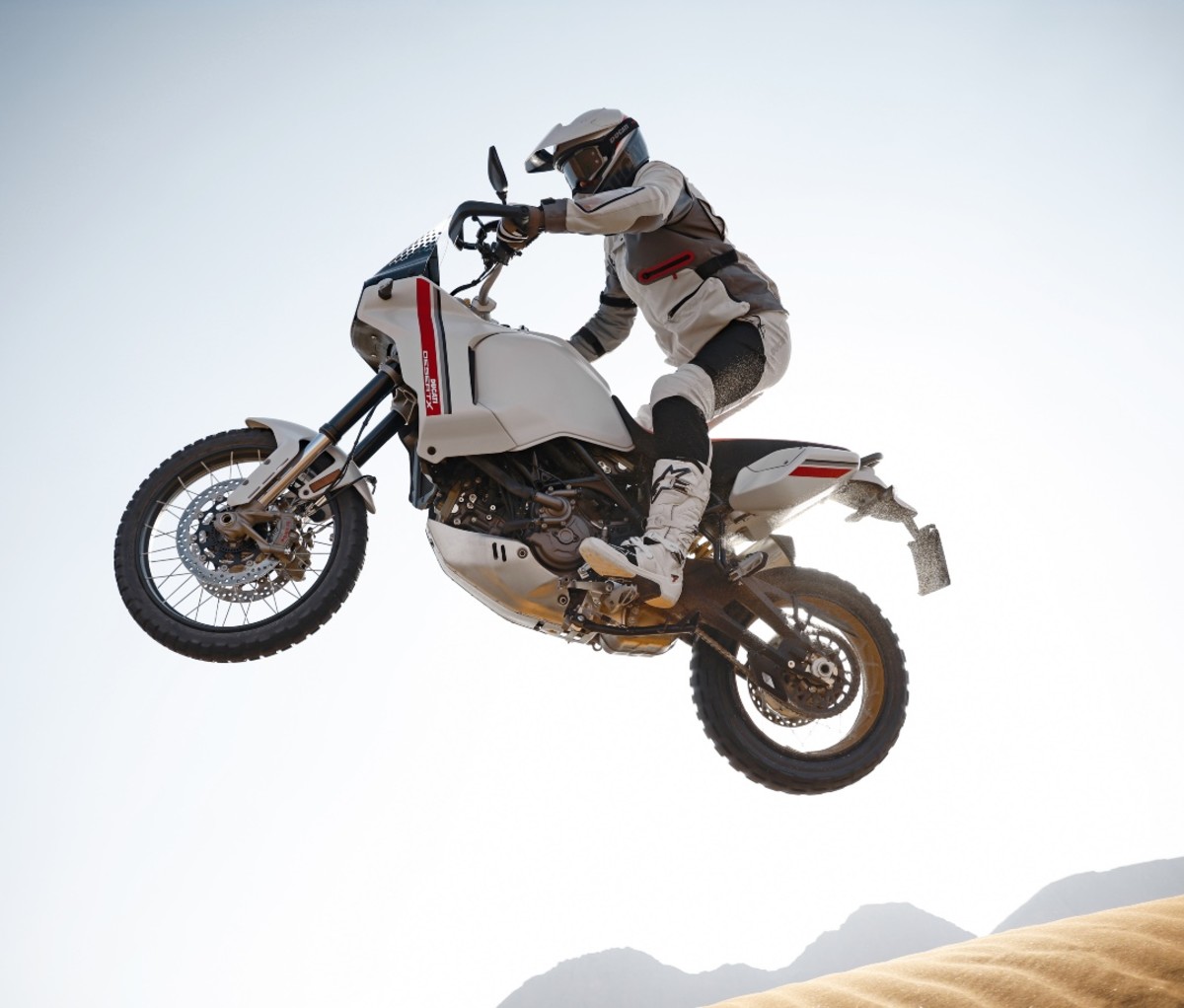 Clamping the M50 monoblock radial calipers down on dual 320-mm discs up front and a single rear 265-mm disc produces plenty of stopping power, but gently feathering in a bit of brake barely does the trick until the bite hits hard (maybe the brakes on Ducati's brand-new press loaner needed a bit more time since it only showed 50 miles on the odometer). The sensitivity (or lack thereof) only really rears up when slipping through traffic or coming to a slow stop, though—and the DesertX's relative lack of brute power never makes the brakes approach a worrisome level of hesitancy.
Without a doubt, the DesertX seems worthy of a full liter or larger engine, which may eventually enter the lineup. As is, the wizardry of a surprisingly nimble ADV bike with perfectly respectable handling during sportier riding shines through despite the larger 21-inch front wheel, long-travel suspension front and rear, and the high center of gravity. A set of 1.8-inch Kayaba forks mounted upside down (or right-side up, really) allows for 230 mm of front travel with adjustable compression, rebound, and preload. The rear damper also offers an impressive 220 mm of travel and yet, neither the nose nor tail ever approach an overly soft or spongy level of sloppiness.
Courtesy Image
Can Ducati Really Adventure?
Of course, at a price tag of $16,795 to start, the DesertX arrives with plenty of electronics tailored to each riding condition. Toggling the thumb controls between Rally, Sport, Touring, Urban, and Wet drive modes adjusts the traction control, wheelie control, quickshifter, and cornering ABS, as well as engine braking and four discreet power delivery levels. Unlike the Multistrada V4 Pikes Peak Edition, however, the DesertX does not allow for electronic suspension adjustments on the fly.
The percentage of DesertX buyers willing to fork out that kind of cash for a commuter bike rather than true ADV riding will probably stay high and even with the standard Pirelli Scorpion Rally STR's square blocks and sipes, road riding remains one of the bike's standout accomplishments. Speed bumps disappear without a blip on the radar, while navigating through tight city streets requires only a moment's concern for the standard hand guards' safety. More aggressive tires for dedicated ADV trips might sacrifice that daily ridability, as will adding the optional 2.1-gallon accessory tank to the already sizable 5.54-gallon main tank.
Perhaps most surprisingly, the DesertX's vertical windscreen provides much less shelter from buffeting wind than expected, even at middling highway speeds. In a segment as competitive as the exploding ADV bike market, such sacrifices may well mean the difference between deciding upon the Ducati versus a Yamaha Ténéré, BMW F860 GS, or Honda Africa Twin. But none can beat the DesertX's design that—along with the new Monster, Streetfighter, and even Diavel—continues to build a bold new future for Italy's iconic bikemaker.
Get it