In the dunes of Saudi Arabia, most visual cues the brain relies on to calculate distance fade into mere illusions. Ridges and depressions shrink and grow depending on the time of day. Human silhouettes on the horizon often pixelate into trembling shadows against the brilliant sand. But most of the 2023 Dakar Rally—which Saudi Arabia's "government" spent millions to bring to the nation's vast desert expanse—takes place in much more rugged terrain than the prototypical dunes. Up north near Ha'il, jagged mountains cloaked in mist hide endless canyons chock-full of narrow ravines and razor-sharp rocks. Chott lakebeds dot the landscape, though not necessarily the same kind of salt flats that most American desert racers might typically call home.
The endurance event takes a different route each year. For the 2023 Dakar Rally, a generally eastward heading saved the famous photogenic rooster tails of big dune country for last, but certainly not least. The 14-stage race began at Sea Camp, north of Jeddah on the Red Sea coastline, then snaked through the northern regions stopping in Alula and Ha'il before traveling southeast through the capital city of Riyadh toward the so-called "Empty Quarter" of dunes, dunes, and more dunes. A final two days north along the Persian Gulf wrapped up racing on the way to a podium finish in Dammam.
Forget what you think you know about Dakar, which I accepted on the very first day of a three-week adventure. Even the weather surprised me—most of the time cold with bitter winds, plus a few days of rain and flash flooding for good measure. Nothing lives up to expectations. Though in a way, that's exactly the expectation.
Most teams arrive a few days before the official start on January 1, testing cars in official shakedown zones before a pre-race Prologue on New Year's Eve determines class starting orders for Stage 1. By then, everyone at Dakar already shows obvious signs of fatigue. Tempers grow short; voices and phrases become staccato. In the thick of it all, riders and drivers need to keep a close eye on their own perception, lest a seemingly rounded or weatherbeaten dune gives way to a steep dropoff or jump that could very well end a race.
As thousands in the bivouac repeat ad infinitum throughout the entire grueling endurance challenge: "Hey, it's Dakar."
Michael Teo Van Runkle
Welcome to Dakar Rally 2023
Direct flights to Jeddah from Los Angeles take at least 15 hours, passing almost directly over the North Pole on the way. For the majority of Dakar competitors flying in from Europe, the travel time approximately halves. Regardless, jet lag sets in for everyone on the smooth highway from Jeddah to Sea Camp, where the bivouac sets up for shakedown testing and the first loop day of racing.
I arrived at the bivouac approximately 48 hours after leaving home on December 26, checked in for media accreditations (a wristband, badge, and vest that allowed me nothing near unfettered access—more on that later), and immediately climbed into a motorhome to conk out. A busload of drivers, co-drivers, engineers, and mechanics arrived with me, most of whom planned to spend the next few weeks in tents on the sand. At Dakar, motorhome life counts as cushy and South Racing, the team I embedded with for the duration of the trip, puts on the most comfortable version of Dakar possible.
South Racing team principal Scott Abraham fielded 26 race cars and three trucks at this year's Dakar, the fourth in Saudi Arabia after security concerns in Mauritania forced a switch from the original Paris-to-Dakar route to South America for 11 years. On the plane from my layover in Istanbul, I met a few veterans who lamented for the old-school adventures through West Africa and the welcoming locals (and local cuisines) of Chile, Bolivia, Argentina, Peru, and Paraguay.
In Saudi, everyone agrees, the race's context imparts an entirely different spirit. The extensive police presence around the bivouac hints at the reception Dakar receives—and the environmental footprint of race vehicles, generators, and motorhomes only compounds the unavoidable presence of oil derricks and refineries speckling a barren landscape populated mostly by half-erected buildings and endless drifts of plastic waste littering the sand.
My media accreditations link me to South Racing, but also the new Red Bull Can-Am Factory Team, which South Racing manages. This powerhouse, announced only a month before Dakar, includes a veritable who's who of off-road racers from around the planet: AJ Jones and Seth Quintero from the United States, Francisco "Chaleco" López Contardo from Chile, Cristina Gutiérrez from Spain, and Rokas Baciuška from Lithuania. Jones won the T4 class for production UTVs at Dakar last year. This year, he joins the prototype side-by-sides in T3 with Quintero, who set the all-time record for most stage wins at a single Dakar in 2022, as well as Chaleco, the wily veteran at age 47, and Gutiérrez, the first woman to win a stage at Dakar. Baciuška takes over the T4 mantle in a Can-Am Maverick X3 racecar much more similar to what consumers can buy from the factory, and arrives fresh from taking the title of 2022 T4 World Rally Raid Champion.
South Racing builds the cars and manages the racers, as well as a hive of mechanics and engineers who work round the clock keeping the cars in running shape after each brutal day at Dakar. But winning at Dakar and other events on the World Rally-Raid Championship (W2RC) calendar serves more as marketing and development testing for the company's main business: building and selling Can-Am Maverick X3 race cars. If a South Racing tubular trailing arm can survive Dakar, after all, it can survive just about anything.
Other than the five pros, most of South Racing's other 21 cars are for paying customers who shell out big time for an arrive-and-drive experience complete with dedicated support teams, living quarters (read: more motorhomes), and food catered for the duration of the race.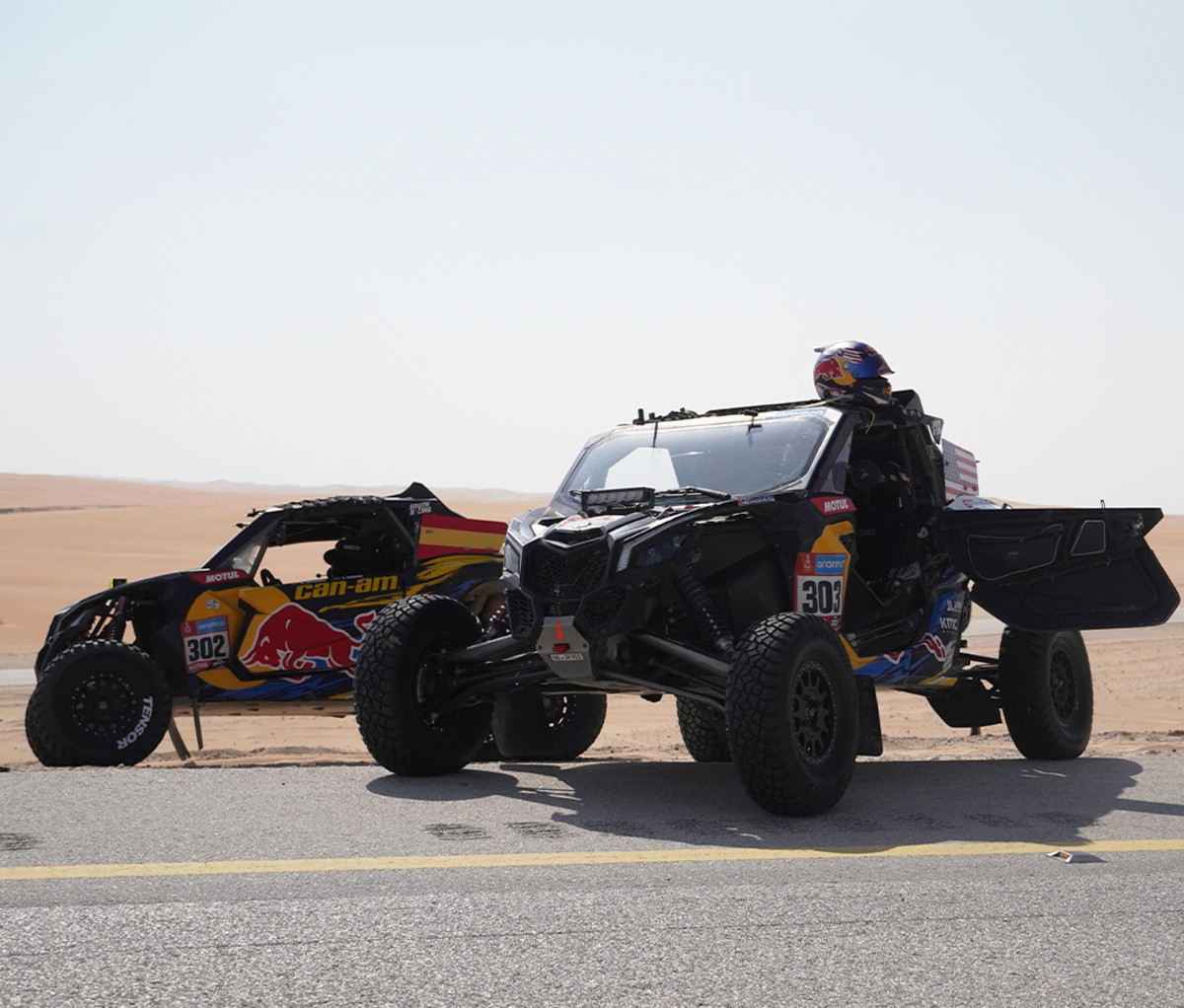 Learning the Ground Rules
The specifics of Dakar's T3 and T4 classes split the South Racing camp neatly into two factions. Joe Naughton, race engineer for the Red Bull Can-Am Factory Team, walked me through the regulations and revisions that South Racing's Mavericks employ at Dakar. T3 cars use a 27-millimeter turbocharger restrictor plate to cap power output, can measure up to 75 inches wide, and use up to 32-inch tires. T4, meanwhile, shrinks the turbo inlet diameter to 23 millimeters, can measure 70 inches wide, and maxes out with 30-inch tires. The differences sound minimal, but when racing at top speed, the purpose-built nature of side-by-sides makes such regulations critical for Dakar, since even a Can-Am's stock output of around 200 horsepower from the factory in a roughly 2,000-pound racing chassis with excellent articulation and traction would allow the far cheaper side-by-sides to legitimately compete with million-dollar prototypes in the more potent, newsworthy T1 class.
"It's fantastic to have a car that, when you leave the bivouac in the morning, everything's been done to put you in the best position possible," Australian T4 driver Molly Taylor told me in the South Racing camp. "Having the experience of these guys is really great when you come into something like Dakar, when a thousand different things can happen and they've already seen a lot of that stuff already."
Taylor's co-driver, multi-disciplinary motorcycle phenom Andrew Short adds: "There are so many restrictions that keep the racing really tight. It's really competitive when everyone lines up. At the same time, everybody has the same opportunity and I think that's the beauty of this class at this race."
That said, Dakar can't have privateers in Can-Ams beating the likes of Audi, Prodrive, or Toyota. Every day throughout the 14-stage race, motorcycles and quads lead out in the morning, followed by T1, T2, T3, and T4 cars depending on finishing order in the stage previous, interspersed with the massive T5 trucks—many of which actually enter the race as support vehicles for teams, rather than aiming for wins at all.
The rules at Dakar require an adjustment period as significant as the culture shock of arriving in Saudi Arabia for the first time—for me, actually, arriving anywhere in the Middle East for the first time. South Racing gave me a little primer briefing via Zoom back home, but learning to read radically different body language and sign-language gestures, getting used to less personal space, and avoiding any stares or eye contact took nearly the whole trip. Meanwhile, I kept a paranoid mind to the regulations for Dakar media not associated officially with the racing body.
At Dakar, only the drivers and co-drivers can help each other during the timed "special stage" portion of each stage. All help from team engineers or mechanics is limited to before or after the racing, during what's called "liaisons" to and from the start and finish of the timed section. The race cars can bring a satellite phone if they need to call in for advice, but cell phones are prohibited. Many of the T5 trucks, since they're entered officially in the race, can therefore stop and help cars stuck in sand, crashed or flipped, or otherwise broken down for mechanical reasons. Any infractions upon these strict rules can cause time penalties and disqualification, to the point that I just avoided touching cars at all times outside the bivouac.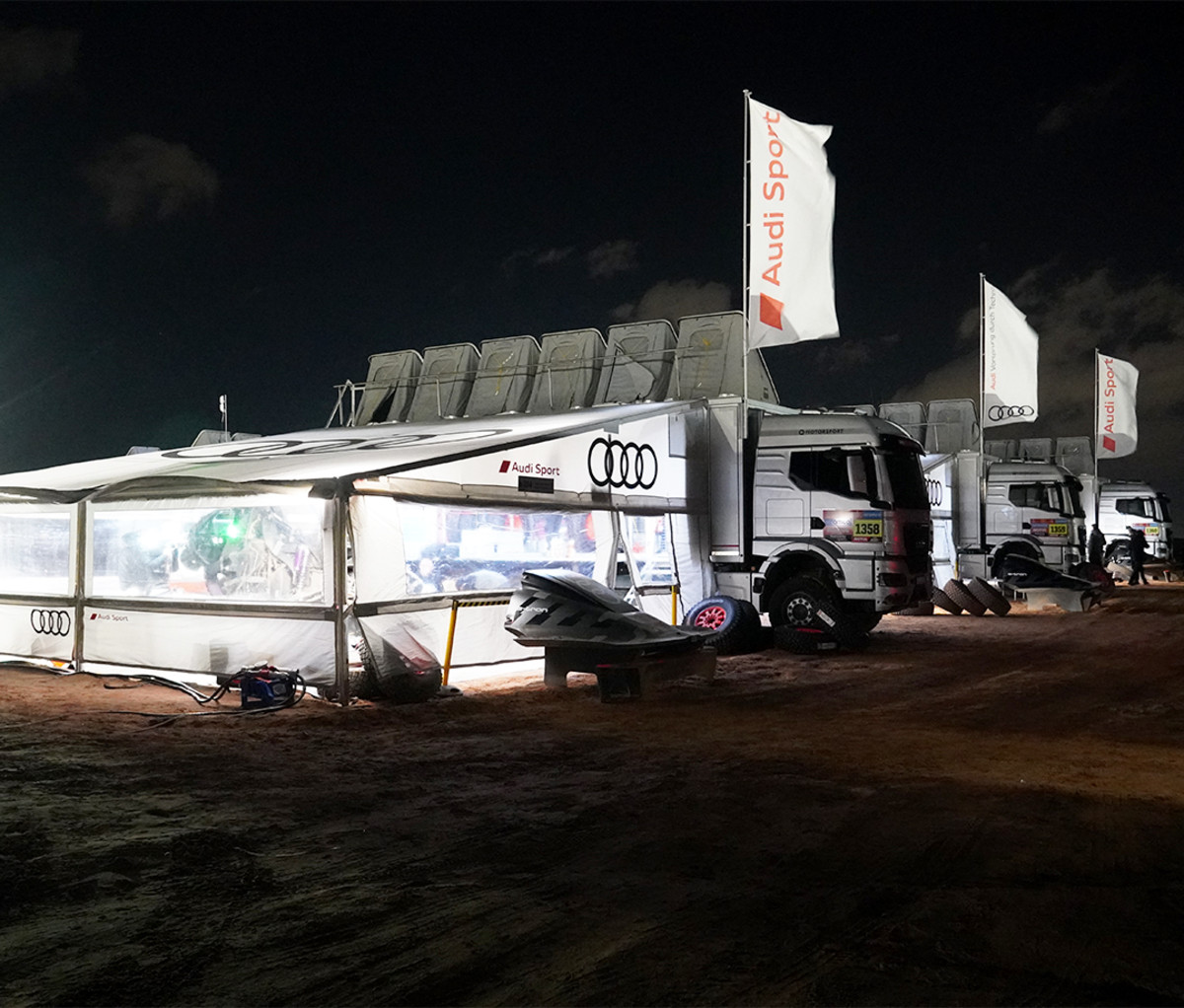 Dakar Is Big Business These Days
Dakar's media contract rights for video and still photography significantly limited where I could and couldn't go. Some start lines I visited, others not. Same for the finishes. Occasionally, where the course crossed a highway, I parked nearby and pulled out the telephoto lens. Most stages never cross a paved road, though.
The timed special stages themselves vary from as short as 115 kilometers (around 70 miles) to as long as 400 kilometers (around 250 miles). Average speeds range from 60 kph to 100 kph, depending on terrain, rocks that cause frequent tire punctures and, this year, the odd flash flood or two.
Then there are the liaisons—on-road portions racers and teams must drive between the bivouac and special stages start and finish lines. Morning start times dictate when racers can leave the bivouac in the morning, how much time they get to reach the special stage start line, then maximum times for the special, and lastly, how much time they get to return to the bivouac after reaching the special finish. Minimal spare time usually allows teams to only perform a quick check of mechanicals, possibly eat a snack, and discuss strategy before and after specials—but not always. This year, liaisons varied from directly next to the bivouac to over 500 kilometers in miserable wind and cold, at night, in the rain.
Following closely? Now throw in a pair of so-called "marathon" stages where drivers and co-drivers spend a night at a separate bivouac apart from the teams, rules dictating whether cars that failed to finish the previous race can re-start the next day, and the varying strategies of each team, many of which field multiple entries in multiple classes—and suddenly the Dakar of today becomes much more complex than a simple waypoint route from Paris, France, to the westernmost tip of Senegal weeks later. In the modern era, computer screens and GPS trackers replace maps to keep tabs on waypoints, routes, and instructions.
There's also the Dakar Classic, launched in 2020, inviting everything from vintage Porsches to Volkswagen Beetles, Citroens, and Mitsubishi Pajero Evolutions built in 1999 or earlier to experience a more traditional regulation rally-style event as an homage to early Paris-Dakar racing. Ah, but those were the days.
Nowadays, Dakar is big business. Don't even ask how much Audi spent developing the advanced hybrid RS Q e-tron, now in its second generation, hoping to win at Dakar outright with past multi-year champions Carlos Sainz Sr and Stephane Peterhansel, as well as the Swede Mattias Ekström, behind the wheel. Toyota's Gazoo Racing brought an entire team of full-race tube-frame trucks they call the "Hilux" (in the same way Nascar calls racecars "Mustangs" and "Camaros"), headlined by Qatari desert specialist Nasser Al-Attiyah in the driver's seat. Legendary rally master Sébastien Loeb's Bahrain Raid Xtreme team brought a fleet of Prodrive Hunters for the off-road supercar's third Dakar outing, and second in the new T1+ class.
The sheer cost of racing at Dakar—the number typically thrown around is 300,000 euros per entry—explains why the side-by-side classes have blown up in popularity in recent years. Why spend millions on a prototype when a modified Can-Am Maverick X3 or Polaris RZR Turbo R can just about keep up?
Enter Red Bull Racing, a behemoth name coming hot off two consecutive Formula 1 championships, as well as years of team sponsorships at Dakar. Now teamed up with Can-Am, widely regarded as the most reliable side-by-sides for off-road racing, Red Bull signed the best talent available and partnered with South Racing to lead the charge. Then, into the mix walks an uninitiated, wide-eyed automotive journalist trying to keep tabs on the rollercoaster of emotions that inevitably well up over weeks of racing in the desert. Talk about fun.
Michael Teo Van Runkle
The Road Book Is Bible
Veterans at Dakar tell me repeatedly that the first week of racing, before a rest day after Stage 8, really doesn't mean much. But the mood ramps up immediately after Gutiérrez takes a convincing first place in T3 at the Prologue. She'll lead out the next day, but South Racing's engineers and mechanics swarm her car, wondering whether her older, broken-in drive belt allowed for a bit more power and acceleration over the quick 13-kilometer sprint than the new belts installed in every other driver's CVT. Over the course of multiple heat cycles during a longer stage, the difference in performance would likely even out, so Naughton reassures me that any competitive advantage over other drivers starting behind her the next day has vanished.
Ekström, meanwhile, puts the Audi's instantaneously available torque to good use to take a blistering Prologue win, with Peterhansel and Sainz close behind in third and sixth, respectively. The gasoline-powered Toyota and Ford engines (Prodrive powers the Hunter with a modified EcoBoost V6) can't quite match the EV's sprinting skills, but will start high enough in the ranking to make the next day interesting. The starting order matters immensely each day because a torn up track slows cars down significantly—other than starting first on a motorcycle, which requires extra navigation and usually results in significant time losses.
Needless to say, by my third day in Sea Camp, the race is on.
On the first day of the new year—no hangovers at Dakar, since Saudi Arabia prohibits alcohol—Stage 1 this year took the race on a loop south out of Sea Camp and back. The timed portion, or the 367 kilometers of real racing out of a total 601 km traveled including liaisons to and from the start line, proves more technical than expected for most drivers. Audi takes a stage win in T1, as expected, though Ekström's car returns with light damage to the left corner of his rear clamshell. In T4, Baciuška sets a good pace, but finds out after the finish he received a 15-minute time penalty when only one, not both, of his tracking devices logged a waypoint. "The road book is Bible," other racers tell me as a warning.
In T3, Baciuška's teammates Jones and Quintero finish the stage with only a five-second difference overall—despite starting around 20 minutes apart, which means they could not even come close to seeing each other at any point of the race. Winding down the day, my mind boggles over the thought of the millions of decisions that go into more than 300 km of off-road racing in a Can-Am Maverick X3. Without any way of knowing each other's pace, Jones and Quintero somehow managed to finish that close together, all without pushing full-gas at this point in the race.
"Right now, honestly, it's way too early to even think about the overall," Jones tells me when I ask what starting the real race feels like. "Our plan is just be within the same 20 minutes or so by halfway. So right now we're just gonna kind of chip away. If we can catch a couple stage wins, that'd be sweet. If not, we're just cruising."
Drivers aiming at an overall Dakar win strategize similarly to a Tour de France GC contender, using the power of teamwork and biding time until the right moment to strike arrives. Seconds count less than hours at the beginning of such a long desert race—only at the end will the windows start to close and the pressure begin to ramp up.
Still feeling a bit of jet lag the next morning, I wake up early to nab a coffee and get some work done before the team starts moving. A few mechanics in the South Racing camp still wrench on a car or two, but by 4 a.m. most have finished their work and even started packing up the bivouac in preparation for the move to Alula, northeast and inland from the Red Sea coast we've called home for five days. The big semis head out first, then the race cars, followed by a fleet of support vehicles driven by engineers, motorhomes driven by mechanics, and a few press cars.
We can stop on the side of the highway to check for flats, swap out problematic components, and give the racers a bit of food and water without worrying about penalties before the timed special starts. After that, no team assistance is allowed. The race course for Stage 2 winds through a few mountainous sections before flattening out near Alula, and rocky paths through narrow canyons cause numerous flats in every class (other than the motorcycles, which run tires at little more than atmospheric pressure). Chaleco quickly displays the skills that only come with time, walking away from the crowd after struggling a bit with electrical shutdowns caused by hard compressions the day before (read: hard landings after jumping the Can-Am).
On the long, empty stretches of highway to Alula, my Toyota Fortuner press car stops at a gas station and we search for some food to go along with the salty snacks Dakar provides in brown paper bags from the main catering tent. Freshly baked, still-warm pita bread and assorted nuts at remote gas stations seem to be the order of the day, which held true for the remainder of my weeks in Saudi. And while Dakar provides fuel for race cars, support vehicles line up at nearly every gas station we pass, filling up on the relatively cheap (though not quite as cheap as I expected, at around $2 per gallon) Aramco fuel. The mandatory race number and sponsorship stickers with plenty of Aramco badging get us no discounts and the Fortuner, essentially a slightly more stylized RoW 4Runner, needs at least a tank a day as we haul around never breaking 130 kilometers per hour, the mandatory speed limit tracked by the in-vehicle Tripy devices that also serve as our GPS directions.
We arrive in Alula to find the bivouac mostly set up already, organized to almost exactly match the Sea Camp layout. The main catering tent, showers, bathrooms, and media facilities leapfrog from stage to stage, but the team trailers, motorhomes, and expandables all follow day-to-day. Experience pays off again, and Dakar vets bring hammocks to loop from semi-trucks rather than spending an extra 20 minutes erecting a tent—a crucial 40 minutes a day that could be spent sleeping.
But hammocks went right out the window at Dakar this year, as the weather quickly turned south. Stage 3, a long 430-km special bookended by 158 km of liaisons, brings the worst of it, as isolated thunderstorms pick up in the afternoon and cause dramatic flash flooding and muddy conditions. Drivers who avoided punctures and finished Stage 2 fastest started Stage 3 earliest, sprinting out ahead of the mess. But those who started later end up creating some of the most memorable images of the entire race.
On the highway, we watch as local Saudi drivers pull over to shoot videos of the rare flooding. We even see the headwaters of new rivers pouring down out of canyons, while worry sets in for the race car drivers and especially the motorcyclists who have little in the way of protection from the elements. Our fears come true when the floodwaters swell and deepen. T5 trucks play heroes of the day, towing numerous cars and side-by-sides through deep water. Cristina Gutiérrez's Maverick almost gets entirely swept away, while Chaleco and his co-driver take swims then get stuck in mud trying to pull up and out of one particularly deep wash (or wadi, in the local parlance).
By mid-afternoon, I receive a WhatsApp message from the Dakar organization's media group chat announcing the bike race has been halted, then another that the entire stage will end at kilometer 355 because gusty winds have grounded the medical helicopters. Some cars stuck battling the floods will cut out even earlier, with their times for the stage extrapolated based on average pace. But even those who reach the new end point, far from pavement, still face a bitter drive back to the bivouac in cold and wet conditions. Chaleco and Gutiérrez arrive after 7:30 p.m. Some later cars don't even make it home, forced to camp out in the desert with the knowledge that Mother Nature ended their race.
Michael Teo Van Runkle
Scream If You Want to Go Faster
I'm only a week into this Dakar trip and already the days are starting to blur. Have we reached Ha'il or are we still in Alula? The dark bivouac still looks the same every morning when I wake up desperate for coffee at 4 a.m. and earlier. And I spend most of my days in the Fortuner, protected from the wind and rain.
So much water dumped onto sand causes more than flash floods, as many drivers discover on the next stage when fuel consumption spikes by as much as 30 percent. At 2:10 p.m., Cheleco calls into the Red Bull Can-Am Factory Team satellite phones to report he's run out of fuel more than 20 km from the designated refueling zone. He reports that Gutiérrez passed him and he thought her engine sounded odd, possibly running on fumes, too. South Racing's team can't believe their ears. Even the worst fuel consumption extrapolation charts show plenty of cushion. Meanwhile, Quintero started the day by tearing off a corner of the Can-Am's rear suspension, forcing at least a 35-minute repair. Then, after getting going again briefly, he calls in to announce that he, too, has run his tank dry.
By the time Cheleco and Quintero can hail down other racers and beg for a tow to the fuel stop, each has dropped around an hour off the race lead. Savvy drivers and co-drivers who noticed fuel consumption spiking early enough manage to combat the problem by slowing down. The unexpected wet, heavy sands takes a toll regardless, as multiple cars arrive back to the bivouac with footwells so packed with sand that the accelerator pedal won't even reach anywhere near full throttle anyway. But that's Dakar, already striking in classic, unexpected fashion.
Just when the sky clears up and everyone can begin hoping the race might be decided by more than the wrath of weather, another WhatsApp message comes through on my group thread: the storm that passed us by landed at our next planned bivouac, Al Duwadimi, and caused such terrible flooding that the race will require rerouting. I get the message before the teams, which means I get the dubious honor of announcing the forthcoming changes.
Rerouting a massive logistical nightmare like Dakar requires creative solutions. In this case, the race organizers decide to throw in another so-called "marathon" stage, which requires the racers to spend a night camped at a different location from the main bivouac. Chaos ensues, and the plan only gets worse. We will skip Al Duwadimi and head straight to Riyadh, requiring a five-hour liaison after the stage, which gets shortened by around 100 km. Then, starting from Riyadh the next day, the race will head back to the originally planned special stage out of Al Duwadimi—another long liaison—other than the motorcycles, which get a day off to recover from the torturous few days of cold, wet, nighttime riding.
A general outcry from teams about interrupting scheduled maintenance intervals then forces the organization to coordinate a two-hour roadside assistance zone at the end of the special, so almost the entire bivouac ends up picking up and leaving Riyadh for the day anyway. The debacle undoubtedly benefits bigger teams that can field a more substantial crew at the temporary assistance area to perform any potentially required maintenance. From there, after the maximum two hours of service, the racers will spend a night away from the teams at Al Duwadimi.
Hold on. Now it's back to Al Duwadimi, the flooded bivouac? Yep, though at least the racers will be allowed to sleep in the massive catering tent, protected from the elements far better than in the normal tents they will use for the more typical marathon stage scheduled for the second week in the dunes of the (presumably warmer) southeastern Empty Quarter.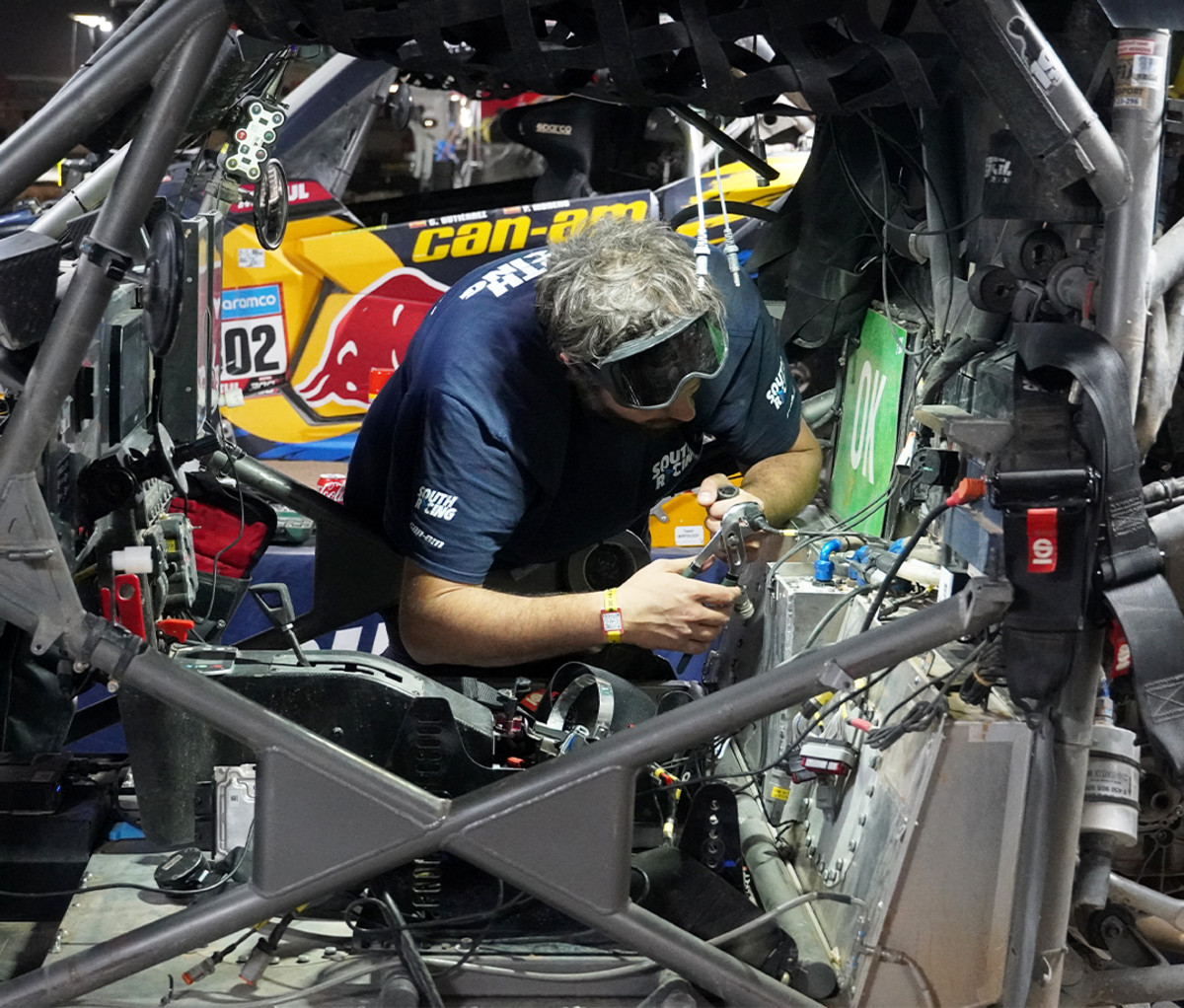 Already Halfway There
After more than a week of racing, including the prologue, the race begins to stratify. In T1, Al-Attiyah in the Hilux already commands a big lead, while Audi seems to add another chapter to a nightmare Dakar story almost every single day. First, Peterhansel crashes hard enough on Stage 6 to knock himself unconscious, force a medivac for his co-driver Edouard Boulanger, and retire the car. Then, Sainz crashes less than 100 yards from the same spot, causing enough damage that the car can't finish the stage. But a recent rule change allows him to keep running in the "Dakar Experience" class, which tacks on an 18-hour maximum penalty and erases any podium hopes. With Sainz out of contention, Audi's full attention turns to Ekström—who then hits a massive rock at speed on Stage 7, bending a wheel and crunching suspension components. Luckily, Sainz can still donate parts off his Audi to get Ekström running well enough to finish the stage.
Loeb, meanwhile, takes podiums in four of the first eight stages, but still sits roughly half an hour off third place by the time rest day comes in Riyadh on January 9. The T3 class somehow shook up even more as the smaller side-by-sides battled flooding, fuel issues, and suspension damage due to the heavy sand. In a purpose-built MCE5 race car sporting a Volkswagen engine and sequential gearbox, Guillaume de Mevius sits in first place, though Jones in the Can-Am follows closely. Quintero, meanwhile, tells me he's so far back now after Stage 4's combo of a broken upright and running out of gas that he'll probably give up on an overall win and push hard for stage wins the rest of the way. Gutiérrez and Chaleco look toasted after the flooding debacle, though Baciuška in T4 still holds onto hope despite the protest of his 15-minute penalty being rejected.
The "rest" day in Riyadh only gives drivers and co-drivers a moment to recover. I spend most of the day shadowing Naughton as he supervises mechanics tearing down cars and replacing major components either scheduled to be swapped out due to mileage intervals or forced to let slide past normal service timing because of the unexpected extra marathon day. New turbochargers, gearboxes, and differentials dot the the tents, surrounded by removed driveshafts, shocks and springs, and control arms. Only 36 hours or so to bring bruised and battered cars back to as-new, race-ready condition—a superhuman effort required from those fresh off the better part of two weeks getting only a few winks of sleep per day.
Meanwhile, Audi gives a press conference offering a closer look at the RS Q e-tron E2 hybrid, and Loeb answers interview questions about the 2023 Dakar Rally so far and what kind of pace he'll need to have any hope of catching up to Al-Attiyah. Nearby, South Racing announces two new endeavors: a concept side-by-side sketch by Maverick X3 designer Matt Tandrup that will eventually use either a hybrid or full-electric drivetrain; plus the NEXT program to scout up-and-coming talent for every position from race car driver to engineer and mechanic roles.
The rest of the bivouac spends the rest day hoping for warmer weather as we head further out into the remote reaches of Saudi Arabia's southeast Empty Quarter and the more picturesque dune stages ahead.
Michael Teo Van Runkle
Racing to the Empty Quarter
Replacing a car's major mechanical components to head off expected failure also poses potential risks, since the rest day doesn't allow much time for shakedown testing. And on Stage 9, leaving Riyadh, the Red Bull of Jones and Quintero side-by-sides both begin losing a bit of top-end power. Maybe something in the turbo hosing? Or an electrical fault? Chaleco simultaneously struggles with his car completely shutting down, forcing speculation about the lasting effects of taking a Maverick X3 for a swim on Stage 4.
The script improves on Stage 10, as Quintero's power problems evaporate and he takes a stage win. Jones still can't hit the officially limited T3 top speed of 135 kph and reports lackluster acceleration, too, but he at least manages not to give up too much time to class leader de Mevius. Two days out of Riyadh, the bivouac pulls into a flat-ish section of desert near Shaybah, surrounded by dunes, while tension begins to build noticeably.
We're in the sandbox now. Only four more days of racing, including the originally planned marathon stage, and the timed specials shorten in the challenging dunes, too. Jones hopes that teamwork can hopefully help him make up time on de Mevius, with some assistance from Chaleco and Quintero navigating through the steep sand. They call it getting a "tow," in similar fashion to Formula 1, though the benefit is less in the way of aerodynamic improvement and more to help Jones keep speed up by not having to slow down and check for a precipitous drop (or "bowl") after the top of every steep dune.
Chaleco still struggles with electrical faults, so his mechanics strip down the Can-Am to almost bare bones. Quintero still sits in an awkward middle zone, chipping away at hopes of an overall victory, but also eyeing individual stage wins. It's every competitor for themself, it seems. The pressure continues to mount, everyone running on minimal sleep, sick of the food, tired of getting nearly zero downtime alone with their thoughts. I take a hike up and out of the bivouac just hoping to get away from the bustle and maybe find a bit of cell reception—but the Empty Quarter truly is empty.
Michael Teo Van Runkle
Pressure Builds in the Bivouac
A surprising number of people at Dakar smoke cigarettes and I begin to understand why. Stress and frustration bubble over, hot and cold, hour to hour, minute by minute. They're even getting sick of the Saudi cigarettes. And the Dakar route organizers don't help the situation, tacking interminably long liaisons onto shortening special stages or handing out, then rescinding random penalties—like for wearing the wrong analog watch or for running too fast while skittering down a dune completely out of control.
The mechanics, somehow, seem to hold their nerves best, maybe because they signed up knowing that Dakar means sleep deprivation, working all night on the clock, then driving from bivouac to bivouac during the days. Their toil goes largely unnoticed by the outside world—a world from which we've increasingly become separated, differentiated, and removed.
Within this mise en scene, coping with the purposeful chaos that Dakar celebrates, who will blink first?
"I want to defend my world championship," Baciuška told me after his stage win, "and I for sure targeted to win Dakar, but it'll be not easy because everyone is pushing like hell and we just need to be clever."
Keeping a cold mind, as Baciuška calls it, amid all the strategizing and tactics that come to the fore in the final few stages requires discipline, on top of considerations for endurance and reliability of the cars and their driver teams.
"This T3 category is a class stacked full of a lot of talent and there's no room for error," Quintero says after winning Stage 10. "I'm in a different strategy, for sure. I'm in third place and there's not really a lot of room to make up time unless the guys in front of me make some mistakes."
Nobody wants to hope that potential breakdowns or crashes by their opponents might make the difference in such an important race, but those aspirations of immaculate sportsmanship start to evaporate amid the building appetite for a win that can justify so much willful suffering.
The first day of the second marathon stage, energy fading at the nadir of three days in the Shaybah sandbox, I wake up from a midday nap with little to do after finishing a book. I'm all caught up on work, or as best I can be given the situation. Torturously, I check for cell reception, hoping to answer some emails or at least check the race results. Nothing. But a few people get enough service to load a page or two in the Dakar app. Jones somehow finished the stage tied with Quintero to the second and de Mevius now sits over an hour and 40 minutes behind. But we don't know why. Can Jones start to exhale, sitting in first overall now with his teammate Quintero in second nearly an hour behind? There's still lots of race left.
Starting on the second marathon day, Jones holds steady, purposefully pacing to give up maybe 10 minutes a day in the name of avoiding punctures and preventing potential mechanical issues. But he wants to keep 30 minutes in the back pocket for a missed waypoint or anything unexpected, since this is Dakar, after all. Quintero continues to face perhaps the biggest quandary possible, still unable to close the gap enough to put an overall win in reach, but close enough that a single moment or mistake from Jones makes pushing for stage wins not quite worth the risk.
By Stage 14, the final day of racing on January 15, T3 looks all but settled—but don't ask Jones, who readily admits that even a solid lead can't quell the anxiety about something, anything, everything going sideways before the finish. Baciuška, meanwhile, enters the stage with a lead of under four minutes over T4 rookie Eryk Goczal. And Red Bull KTM Factory team rider Toby Price starts the last day with a lead of only 12 seconds over teammate Kevin Benavides—unbelievable after thousands of miles of desert racing.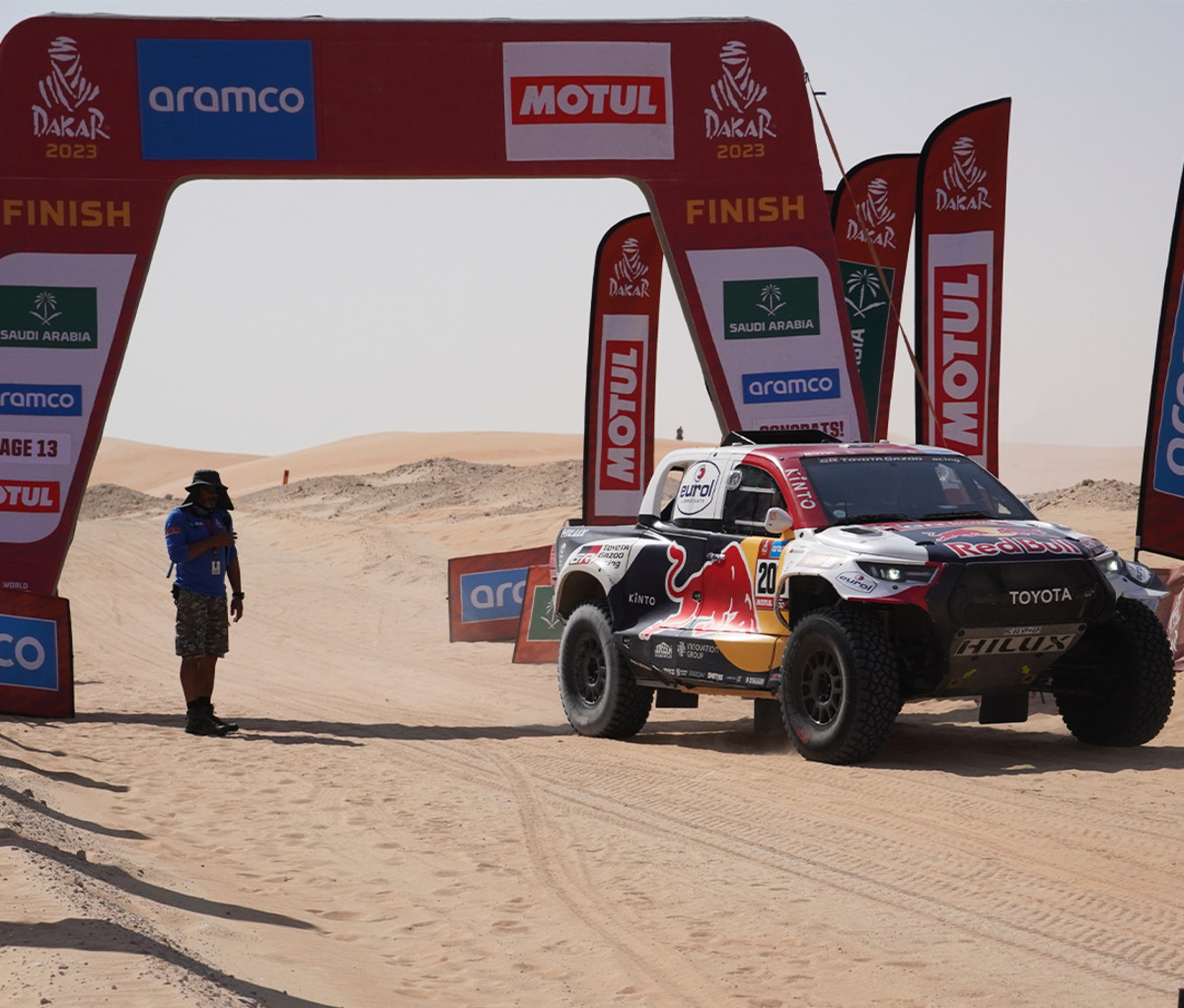 Close Finishes After Weeks of Desert Racing
The stage set, Dakar delivers the drama as usual. We're near Dammam, so at least one of my iPhone's three SIM cards works well enough for me to follow the race results in almost real time. At each checkpoint, Price and Baciuška appear to be holding their leads, if not stretching out the gaps. But then Benavides comes through the finish line ahead of Price on the road, staring back at the horizon immediately to check on his rival. Apparently Dakar switched the starting order up on this last stage—and I've been mistakenly following the younger of two Benavides brothers in the race. So the app now tells me Price has actually lost time!
I mosey over next to Baciuška's family waving Lithuanian flags at the finish line, surrounded by a group of enthusiastic countrymen. He's through the last checkpoint, still sitting pretty over Goczal, when my phone freezes up. I check in with his father, bent over against a fence, eyes drilling through the distant sand in hopes of catching a glimpse of gleaming metal—but he shakes his head. My app loads again and shows Baciuška stopped for a few minutes, maybe 15 km from the finish. The time crawls, seconds and minutes ticking by as hope swirls and subsides in the blistering wind. Then Goczal rolls in, left rear wheel canted in about 30 degrees off vertical.
He and Baciuška both left spares behind in the name of a full-gas sprint to the finish. But the decision never made a difference, as Baciuška reveals by eventually arriving at the finish holding a removed propshaft out the window net of his Can-Am in silent explanation. He's given up over 20 minutes to Goczal between the final checkpoint and the finish line of the final stage. But hey, it's Dakar. Consolation will be second overall as Goczal sets a new record for youngest ever class winner at age 18.
Loeb, meanwhile, rattles off six consecutive T1 stage wins but can't crack Al-Attiyah's steady pace. And Price? He spots Benavides 55 seconds on the day, resulting in a 43-second margin of victory after 14 days risking all racing dirt bikes in the desert. Talk about a gut punch.
After a steady final stage good enough to hold off any potential drama in T3, Jones revisits the original plan: holding leads when possible, and keeping an eye on the big picture—within such a fraught, nerve-wracking environment,
"It's really hard when all this stuff is going on—and you get excited—to be disciplined enough to just let everything around you happen and continue to focus on yourself and stay true to what you wanted to do," he says.
At a lengthy podium ceremony in Dammam to wrap up Dakar, all the weeks of pent-up pressure finally start to subside. I'm tired all of a sudden, the rousing flood of adrenaline and cortisol levels returning to baseline. After so much time in the bivouac, surrounded by roaring race cars and impact drills and stressed-out humans, I almost forgot that Dakar is a really big deal. But all the work, weeks of sleep deprivation, late-night strategy sessions, and the sheer financial expenditure—everything in the maelstrom condenses into frame at the final medal ceremony, as drivers, co-drivers, and teams etch their names into the record books.
Jones can now claim two Baja 1000 wins and two Dakar wins in two different classes. But rather than resting on those laurels, he believes a race that ran the gamut from flash flooding to sizzling dunes will only add to his arsenal in the face of future competition.
"To be the first American to win two Dakars, that kind of stuff will live forever, which is super cool," he tells me later. "It gives me a lot of confidence going into future races. 'Remember when you won that Dakar that was 14 days long of the gnarliest days ever? Well, if you got through that, you can definitely get through this.' "
Red Bull logos bedecked the top riders, drivers, bikes, cars, trucks, and side-by-sides in almost every class. And Can-Am now owns six straight Dakar wins in either T3 or T4 side-by-sides, as the company claws at Mitsubishi's once-thought-insurmountable record.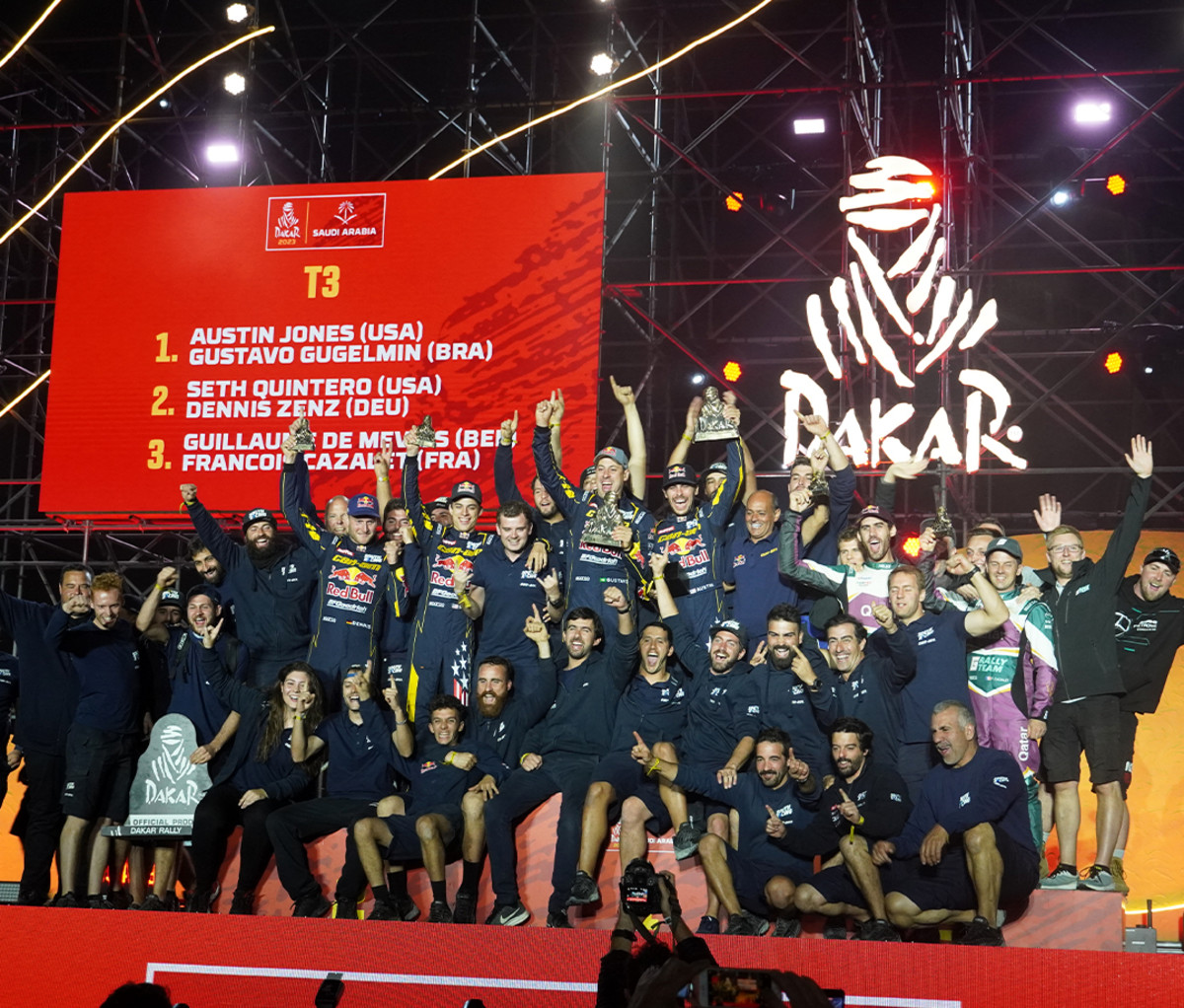 Wrapping Up and Heading Home
A few flights booked for that night mean the bivouac starts to shrink noticeably. Mostly mechanics and engineers stay behind, cleaning up racecars and clearing out motorhomes, delivering rentals to the port for the long boat ride back to Europe. "Back to reality," I keep singing in my head, the comedown somewhere between Sunday night after a sober music festival or a drug-free drive home from Burning Man. But Dakar is certainly not a monastic, peaceful retreat for anyone involved—including an unencumbered guest taking notes and photos of race teams battling it out in the desert.
Nothing can capture the full Dakar experience—as diehard fans lament while following updates online via the borderline useless Dakar app and website or Red Bull's video footage. And certainly not my attempts at social posts or this extensive recounting, because even with media credentials in hand, I spent minimal time actually watching the racing action.
South Racing principal Scott Abraham sees an opportunity in the mystique, though. Alongside the concept car and NEXT program, he plans to launch a luxe fan travel experience, called 34 Degrees South, that offers an up-close-and-personal look at the exotic adventure of rally racing as these teams spend the year traversing some of the most remote regions on the planet.
"We've got a lot going on. We've got the race programs, we had a North America program that was launched this year, we have Future Vision and we have NEXT," Abraham told me. "34 Degrees South is bespoke. We'll have key experiences, which will be repeated annually, probably in Morocco and Mexico, but they would be different every year. And then there are gonna be unique opportunities, you know, rock 'n roll on the lake bed at King of the Hammers…I've been to most of these races now, this is my 19th Dakar, but it's not a case of 'been there, done that.' I'd also like been there, done that, and maybe share some more of it."
Even weeks deep into the Dakar Rally, acclimated to the daily grind of early starts and late nights as the traveling circus meanders through Saudi Arabia, I learned over and over again how much racing life requires a lot of waiting around. Would I do it all over again? Probably not as a spectator, but maybe as a driver or in the Dakar Classic. The time commitment and ungodly cost makes such a dream seem incredibly unlikely, though. Add in more stages over a longer race that Dakar plans to run in the future, alongside the technological changes mandated by attempts to reduce the event's obviously significant environmental impact, and the desire fades further.
Maybe I should blame that feeling on some recency bias as I type away at 2 a.m., jet lagged in Los Angeles only three days after Stage 14's podium finish. But in the heart of the exhaustion, in each moment of anxious waiting, during every long liaison between distant bivouacs, I loved Dakar. And just maybe as the next running approaches, I'll begin feeling the desert's magnetism once more, sucked in by the living legend of the original rally that attracts a bunch of race-crazed maniacs to ring in each new year with days and weeks living out Dakar dreams in the desert.