There's an ideal that lives way out on the horizon for every gearhead—one that resonates with DIY mechanics, performance junkies, and dreamers alike. Thinking beyond what's offered at colorful multi-line dealerships, the conversation starts with the usual "what ifs" and "maybes" when pondering the perfect machine. What if you could fit this engine in that frame? Or maybe those wheels would work with a bit of tinkering? Few ever see those ruminations come to fruition. Yet the category-bending 2023 Arch 1s sport-cruiser motorcycle is what happens when fantasy comes to life—and we got to ride it.
Courtesy Arch Motorcycle
Birth of a Badass Brand
A little over a decade ago, Arch Motorcycle co-founders Gard Hollinger and Keanu Reeves signed on the dotted line and formed a radical new American V-twin brand based in Hawthorne, CA. Gard, a renowned custom motorcycle builder, and Keanu, a dyed-in-the-wool motorcycle fanatic that moonlights as a Hollywood A-lister, are cut from the same cloth with their shared appreciation of bikes. Their personal collections run the gamut from thoroughbred superbikes to vintage classics and quite a bit in between.
Forming an actual motorcycle company is what it took to bring their collective vision to life. That's no small task, as the treacherous bureaucratic waters of safety and emissions compliance must be navigated, talent acquired, components procured or designed, milled and machined, tested and refined. Then, finally, a motorcycle can hit the road. Maybe.
Admittedly, that's an oversimplification, but the Arch 1s represents the brand's second production motorcycle that's rolled out of its facilities, following up on its maiden power cruiser, the KRGT-1.
Courtesy Arch Motorcycle
Detailed Design
Should you have the $128,000 asking price burning a hole in your deep pockets, one does not simply walk into the Arch building and demand their pick of the litter. A bespoke motorcycle company treats its customers much differently, starting with a conversation about what makes the owner tick. While core components, such as the milled aluminum and steel cradle frame, the enormous air-cooled 124 cubic inch S&S Cycle T124 V-twin engine, and the basic design, are shared—your Arch will be yours. With a price tag like that, the sky is the limit when dialing things like touch points, colors, seat height, or even going as far as massaging suspension geometry and settings to suit the rider.
The Arch 1s asks questions of the American V-twin tradition, blending superbike-derived aspects into its design from every angle. A sleek carbon fiber fuel tank integrates fighter-jet-inspired air intakes to feed a downdraft fuel-injection system, and is all mated masterfully to a dizzying amount of billet aluminum and a sizable single-sided swingarm.
A cruiser, sure, but there's much more in store. Threads from the sportbike world are further pulled, weaving premium performance components such as Öhlins suspension, feather-weight BST carbon fiber wheels, and massive 6-piston brake calipers into the tapestry. Lastly, mid-mount foot controls speak to sportier goals than the feet-forward KRGT-1's riding position offered—and that's before turning a single wheel on the road.
There are other unexpected twists and turns in the design—namely, with the aluminum frame brace located beneath the seat. Gard feels that feature is reminiscent of a ship rising out of the water, and has had that bit of nautical influence tucked in his back pocket since the KRGT-1.
Courtesy Arch Motorcycle
Rumble and Roll
The Arch team embraces its American V-twin roots and ties things together via the S&S-built V-twin mill, making it the undeniable centerpiece and a feast for all our senses. A hearty crack is spat out the exhaust when brought to life, accompanied by a soulful, head-turning rumble.
Twisting the old-school cable throttle, you can sample the immense 115.3 foot-pounds of torque available on demand, which (much like the rest of this machine) commands respect. The sheer power might seem imposing, but the linear nature of a V-twin powerplant helps reign it in.
As forward-thinking as the Arch 1s is, this is where the underpinning of classic V-twin Americana thrives. A buttoned-up, streamlined Japanese inline-four powerplant, it is not. It shakes, rattles, and rolls, with the V-twin's massive pistons swinging like a barroom brawler, delivering punchy power that's present anywhere above idle. Short-shifting through the manly 6-speed gearbox will keep it on the boil, as it quickly runs out of steam in the upper revs.
A cruiser with a modern vibe down to the full-color TFT instrument panel, the bike's spartan cockpit is bedazzled with span- and ratio-adjustable Magura levers meeting your fingertips. A casual reach to low-rise handlebars and mid-mounted foot controls isn't too far off from your average naked sportbike, but the first few sweeping turns through Malibu's winding hills reveal the machine's singular presence of mind: it doesn't just beat to its own drum, but also asks the rider to keep its tempo.
Try to hustle through curves by pushing or pulling the controls and the whole ensemble hits sour notes. Trust goes both ways in this case, and simply leaning this steed into curves will track a line true all the way through. From there, all one needs to do is crack the throttle and let the colossal 240-series Michelin Pilot Power 3 rear tire lay down a footprint the size of any NBA star to pick you up out of a turn.
It's no surprise that the fully-adjustable Öhlins inverted fork and mono shock provides a firm but fair ride, yet the settings don't take things too far and begin beating up the rider. The roughly 600-pound bike is kept in shape through all bumps and bruises that our twisty Malibu route would deliver, proving to Harley-Davidson and Indian Motorcycle that you can create American cruisers with excellent ride quality.
On the same note, opting for powerful ISR calipers provides the stopping power we can all appreciate in a motorcycle. Twin 6-piston calipers and rotors in the front come in handy when hauling heavyweight V-twin machines to a halt, and they'll do without batting an eye. Equally impressive is the single 4-piston caliper and rotor in the rear—great for scrubbing a bit of speed while sashaying through the canyons.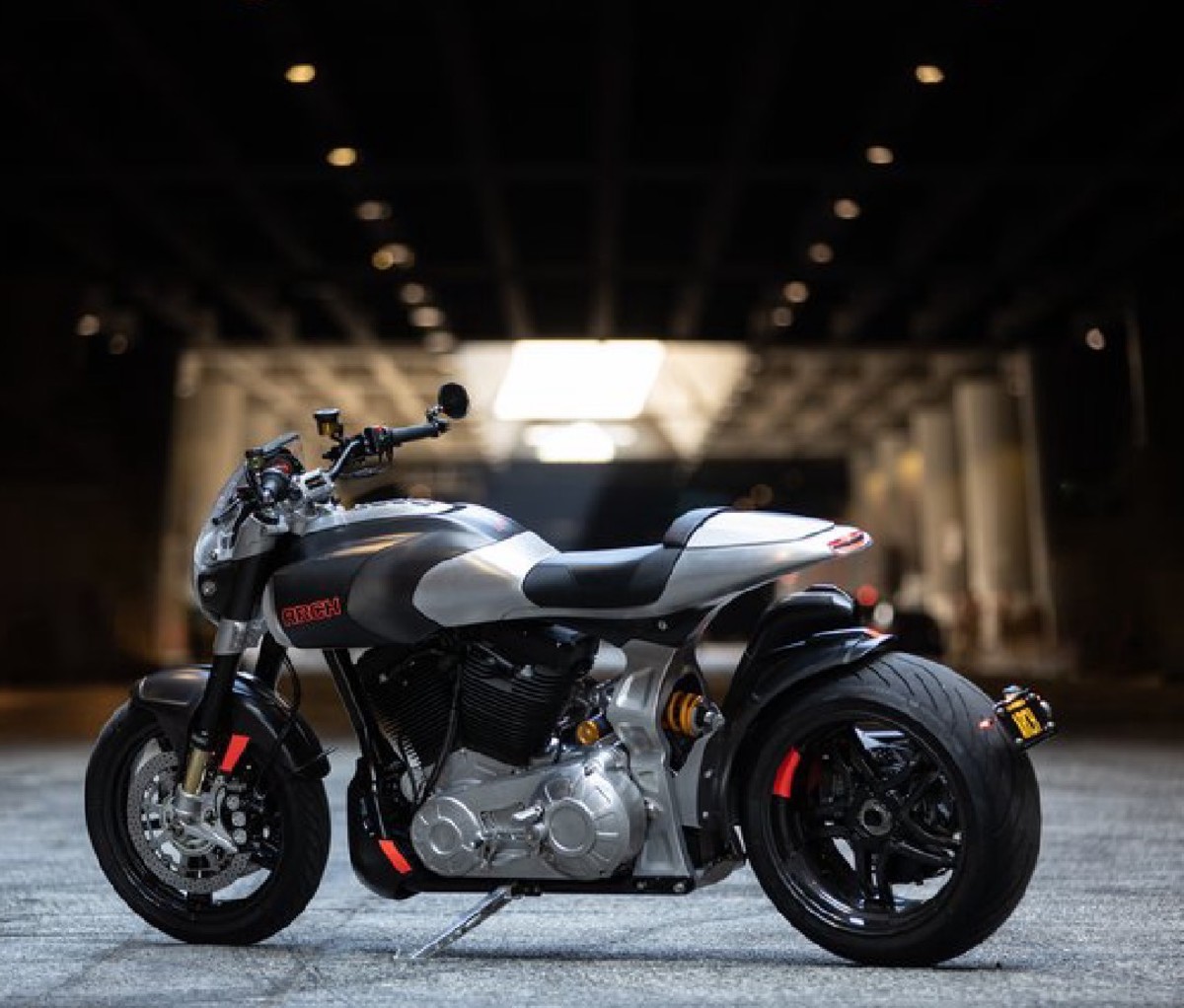 Hybrid Hustler
Arch set out to answer the "what ifs" and "maybes" that linger in any rider's mind, creating a motorcycle that defies more than a handful of conventions. Where an imagination-wilting bottom line often keeps production motorcycles from living up to the goals of design or engineering teams, an Arch isn't bound by those same constraints and flexes pure exotica. But what carries all of that whimsical sentiment is a quintessential American V-twin riding experience. Only a precious few individuals will feel the Arch 1s firsthand. Those who do will have quite the story to tell.
[From $128,000; archmotorcycle.com]
Get it